NORD to showcase the new IE5+ high efficiency product portfolio and other innovative airport technology solutions.
Airport industry leader, NORD DRIVESYSTEMS, is bringing their future-ready drive solutions to the American Association of Airport Executives (AAAE) Conference and Exhibition June 5th - 8th in Seattle, Washington. NORD delivers drive solutions for every application in baggage handling systems and their innovative products are utilized throughout airports worldwide. Whether at the check-in, sorting, high-speed transport, or baggage reclaim - NORD provides configurable drive systems to meet all requirements of every application. Their new generation of products including the DuoDrive integrated gear unit/motor, IE5+ synchronous motors, and NORDAC ON/ON+ variable frequency drives are specifically engineered for conveyor systems and deliver a higher level of efficiency, reliability, and cost savings.

NORD will be displaying these specialized solutions at Booth 926:
DuoDrive integrated gear unit and motor
The DuoDrive is a revolutionary design concept that combines an ultra-premium efficiency IE5+ motor with a single-stage helical gear unit all in one, compact, UNICASETM housing that saves on installation space. These drives offer 0.5 - 2 HP and are especially suited to the airport industry thanks to the optimized system efficiency, high power density, and very low noise emissions. Their simple Plug-&-Play capability allows for fast commissioning and maintenance reduction.
Advantages:
-IE5+ permanent magnet motor technology for extremely high system efficiency
-Compact design for easy installation
-Fast, easy commissioning
-Low maintenance
NORDAC ON/ON+ variable frequency drives
NORDAC® ON VFDs were developed to meet the special requirements of conveyor technology and for interaction with the new IE5+ synchronous motors (NORDAC ON+). These compact, decentralized VFDs can be wall or motor mounted and can operate both asynchronous and synchronous motors. Simple parameterization tools allow the VFD to intelligently control speeds, ensure exact positioning with high dynamics, and control conveyor systems section by section, resulting in smooth operation with fewer backups. An integrated Ethernet interface, full Plug-&-Play capabilities, and integrated PLC functionality work to reduce variants in a system and provide an economic solution for IloT environments.
Advantages:
-PLC functionality for drive-related functions
-Control and parameterization tools with simple parameter structure
-Drives usable over a wide frequency range
-STO and SS1 - optional integrated safety functions
IE5+ synchronous motors
NORD's IE5+ synchronous motors offer some of the highest gear efficiencies available today. They deliver 0.5 - 5 HP and feature a compact, ventilated design for temperature control and a high overload capacity to meet the demanding needs of baggage handling systems. A motor integrated encoder comes standard and optional integrated mechanical brakes provide further control of more demanding applications such as inclined conveyors. These motors also feature a quiet, fan-less design, making them suitable to acoustically sensitive areas such as check-in or baggage reclaim.
Advantages:
-Flexible motor mounting: direct mounting, NEMA, IEC
-Constant high efficiency even at low speeds and partial loads
-Reduction of variants through constant torque over a wide speed range
LogiDrive®
The LogiDrive solution from NORD DRIVESYSTEMS works to reduce the planning and commissioning effort by providing a system that is energy efficient, flexible, service friendly, and supports a wide range of speeds. This system maintains efficiency levels even with partial loads and low speeds, making it especially effective for high-volume baggage systems and other conveyor systems.
The LogiDrive package consists of:
-High efficiency two-stage bevel gearbox or DuoDrive
-IE4 or IE5+ permanent magnet synchronous motor
-Decentralized variable frequency drive
-Power plug connector
-M12 connectors
-Incremental encoder
-Pre-assembled cables
-High overload capacity
-Standardized hollow shaft diameters
Two-stage helical bevel gear units
Two-stage helical bevel gear units deliver 0.16 HP - 12.5 HP in a modular, compact design. An open housing design made from low-weight, high-strength aluminum alloy provides high axial and radial load capabilities while effectively dissipating heat to prevent the gearbox from overheating. These units are available with foot, flange, or face mounting and feature flexible input and output options, making them highly versatile to different applications and environments.
Advantages:
-Up to 97% efficiency
-More efficient and reliable solution than traditional worm units
-Quiet operation
-Long service life, low maintenance
NORDAC PRO SK500P variable frequency drives
The NORDAC PRO is a universal frequency drive suitable for a wide range of applications. These VFDs utilize the latest technology to provide exceptional connectivity and effortless installation. Easy operation is achieved via an integrated multi-protocol Ethernet interface, optional Bluetooth interface, and a SD memory card for storage space as well as transfer of parameters, firmware, and operating data. Additionally, if power is disconnected from the drive, users are still able to access parameterization through a convenient USB interface. Safe operation is also addressed in the frequency drives with multiple safety functions including STO and SS1. With PLC functionality, POSICON integrated position mode, and synchronous operation, NORDAC PRO variable frequency drives keep baggage handling systems running efficiently.
Advantages:
-Compact design in book-size format for space-saving installation in control cabinets
-Functions can be extended with plug-in SK TU5 control module and SK CU5 extension modules
-High precision regulation and large overload capacities
-Motor brake management, lifting gear functionality
Learn more at https://digital-trade-fair.nord.com/en-us/aaae.
Featured Product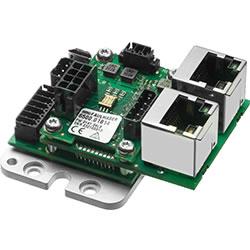 The FAULHABER Linear Actuator L series are designed to provide high performances in compact dimensions, these actuators can support large input speed, high output force and are suited for a wide range of applications like robotics, industrial machines and laboratory equipment.