Be Alerted when Vacuum Rises or Falls in your System with Presair's Vacuum Alarm.
Eau Claire, WI (December 15, 2021) — Presair, a division of Senasys, a well renowned manufacturer of pneumatic pressure and vacuum switches, recently released a cost effective and efficient device to monitor the amount of vacuum in an airline.

Much like the pressure alarm Senasys manufactures, the vacuum alarm is designed to grab the attention of qualified personnel to prevent and fix issues before they cause significant downtime.
This Vacuum Alarm is a perfect way to be alerted when vacuum rises or falls in your system. By pairing a vacuum switch with a quick connect coupling, this allows for effortless setup. A magnetic stack light and/or alarm connected to the switch alerts personnel as soon as the airline drops below or rises above your specified set point. A protective switch boot keeps connections safe and damage free.
The switch action is SPDT/SPST, and is UL & CUL rated for 100,000 cycles at 5 Amps @ 240VAC. The adjustable vacuum switch has a range of 2.5 - 300 Inches of Water and a differential vacuum of ± 10 Inches of Water. Add-ons such as magnets for easy mounting are also available. This vacuum alarm is MADE IN THE USA.
The vacuum switch is field adjustable by using a Phillip's head screw on the microswitch carrier and can be set anywhere between the range you select. All switches are 100% tested at high and low settings and at proof pressure tested.
If you would like more information about the Adjustable Vacuum Alarm or to purchase, visit our website presair.com/products/vacuum-alarm-kits/
About Senasys Inc.
Senasys designs and manufactures a wide range of temperature switches including snap disc thermostats, high limit capillary thermostats, line voltage thermostats, and duct temperature sensing switches. We also make a number of lines of industrial panel mount control switches, micro switches, and pneumatic pressure and vacuum switches. We excel at helping OEMs using small to large volume of devices solve switch problems related to temperature, pressure/vacuum, air flow, and more.
Featured Product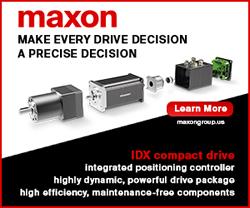 maxon motor launches new high-speed motors that are configurable online. The new ECX brushless motors are quiet and feature very high efficiency. The ECX motors are available with diameters of 8, 16 and 19 mm achieving speeds of up to 120,000 rpm. They run very smoothly and are highly efficient. With maxon motor's online configurator, it is easy to put together a customized DC motor to include gearhead, encoder and controller. The customized motors are ready to ship in 11 days!