Expert Team brings unparalleled real-world experience with Production Applications
Optomec, a leading manufacturer of solutions for 3D Printed Electronics and 3D Printed Metal, announced the formation and meeting of its Printed Electronics Technical Advisory Board (TAB). The inaugural board meeting was recently held to discuss production applications of the Aerosol Jet® printed electronics solution in general and its role in addressing current electronics supply chain issues in particular.

The TAB members comprise many of the world's leading experts in Printed Electronics, each with more than a decade of global leadership in the field, and represent the following organizations:
A Fortune 500 Medical Device Manufacturer
A global Contract Manufacturing Services provider
Two leading DOD electronics contractors
Two top-tier Printed Electronics University research labs
The TAB was formed to help define and develop more effective Printed Electronics solutions across all major manufacturing segments and accelerate the adoption of printed electronics for wide-spread production use. Particular topics of discussion include industry trends, key challenges, market opportunities, product requirements and economic justifications.
As the world leader with over 500 Additive Manufacturing machines in use, Optomec and its TAB possess a unique perspective on the requirements for the proliferation of Printed Electronics in the broader market.
"Optomec is excited to announce the formation of its Printed Electronics Technical Advisory Board, and appreciates the participation of such an accomplished set of experts," said David Ramahi, Optomec CEO. "The cross-industry group dynamic elevates our discussions in a way that will help maintain Optomec's leadership position, but also inure to the benefit of the Printed Electronics industry more broadly."
Earlier this year, Optomec established a separate Technical Advisory Board for its Metal Additive Manufacturing business. Both TABs have proven to be a valuable source of guidance as Optomec shifts its Additive Manufacturing business from research to production. For the last three years, the majority of Optomec's business has been in production applications.
Optomec's Printed Electronics machines enable manufacturers to create extremely fine 3D electronic structures-such as circuits, sensors, antennas and interconnects-with features as small as 10 microns using nanoparticle inks. The machines are widely used in the Aerospace and Defense, Energy, Medical Device, Advanced Electronics Packaging and Research segments.
About Optomec
Optomec is a privately held, rapidly growing supplier of Additive Manufacturing systems. Optomec's patented Aerosol Jet Systems for printed electronics and LENS/Huffman 3D Printers for metal components are used by industry to reduce product cost and improve performance. Together, these unique printing solutions work with the broadest spectrum of functional materials, ranging from electronic inks to structural metals and even biological matter. Optomec has more than 300 marquee customers around the world, targeting production applications in the electronics, energy, life sciences and aerospace industries. For more information about Optomec, visit https://optomec.com.
LENS is a registered trademark of Sandia National Labs; Aerosol Jet is a registered trademark of Optomec, Inc.
Featured Product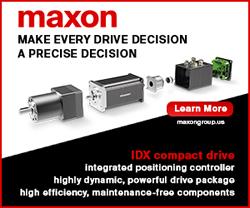 maxon motor launches new high-speed motors that are configurable online. The new ECX brushless motors are quiet and feature very high efficiency. The ECX motors are available with diameters of 8, 16 and 19 mm achieving speeds of up to 120,000 rpm. They run very smoothly and are highly efficient. With maxon motor's online configurator, it is easy to put together a customized DC motor to include gearhead, encoder and controller. The customized motors are ready to ship in 11 days!