Upgraded platform supports the automotive industry's shift to electric vehicles and expands partnerships with some of the world's largest automotive brands
oday at the Assembly Show, Symbio Robotics, the provider of a platform that enables AI-powered automation solutions, launched SymbioDCS 2.0, a major update to the company's flagship middleware and python programming framework. With a streamlined automation solution development and deployment process, the updated platform contains a series of breakthrough features to support accelerated electric vehicle (EV) timelines and emissions-reduction goals by automakers through real-time robot-controlled apps such as insertion, fastening, and moving lines.

"The demand for Symbio's technology continues to increase as mounting pressure on automotive companies to change their factory footprint and increase production of EVs grows. The recent Ford and GM announcements to put billions into EV-focused factories is hard evidence of this," said Max Reynolds, Symbio CEO and co-founder. "Our technology is a vital part of this build-out as it enables OEMs to expand quickly and focus on scaling-up to support their hundreds of production line robots."
As governments and cities introduce regulations and incentives to accelerate the shift to sustainable mobility, including a 50 percent EV target for 2030 by the Biden administration, automakers are quickly shifting their strategies. To meet this demand, Symbio has added the following new features to its robot-agnostic platform:
Improved programmable logic controller (PLC) interaction and integration with advanced task execution framework.
Computer vision-based line tracking capabilities for moving line applications.
Streamlined user interface (UI) for operation and troubleshooting.
Highly modular containerization for multi-robot and multi-sensor configurations.
SymbioDCS 2.0 uses machine learning and computer vision to identify features on a moving line target. An advanced task execution framework enables any robot to move alongside the target, interact with a workcell's PLC, and perform the desired moving line task. UI-enabled monitoring and process optimization is also included. In the past year, the number of robots using the platform has grown 10x, and to date, more than half a million cars on the road have been assembled using SymbioDCS.
SymbioDCS 2.0 is one of 20 products selected as a finalist for the New Product of the Year Award (Factory of the Future category) at the Assembly Show. To get more information at the show, visit Symbio Robotics at booth 551.
About Symbio Robotics
Symbio Robotics is dedicated to strengthening and revamping the fundamentals in industrial manufacturing through its flagship solution, SymbioDCS, a platform that enables AI-powered automation tools. Customers using the platform include major automotive manufactures, including Ford, Nissan and Toyota.
Featured Product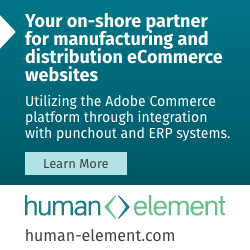 With Human Element, you will build a strategic partnership with experienced on-shore strategists and developers who understand the pain points unique to manufacturers and distributors. Using Agile methodologies and proven eCommerce website development strategies, our team positions clients for success.