CRP Technology has built as a single unit the structural part of Pleko spike shoes: outsole, midsole, pins and ribbing. The result is a functional prototype, flexible and resistant to deformation even in thin thicknesses, which is innovative for customization, technologies and material used: Carbon fiber reinforced Windform SP composite.
Venetian middle-distance runner Miro Buroni has created and developed Pleko, customized and revolutionary athletics track shoes (in jargon, spike shoes) with innovative features in terms of production technology and material.

To create Pleko, Miro made use of the skil
ls and support of two companies, Diadora for historical analysis and design; CRP Technology for the manufacture of the outsole-midsole and ribbing, through professional 3D printing (Powder Bed Fusion process with composite polymers fibers-reinforced, that is Selective Laser Sintering) and Windform® SP Carbon fiber filled composite material.
The creation of Pleko started with the three-dimensional scan of the athlete's foot. This step was followed by the biomechanical analysis of the act of running and footing through the 3D foot scan.
When the project was ready to became reality, Buroni decided to use Selective Laser Sintering to build the supporting structure of the Pleko. He focused on finding a company able to provide professional 3D printing service and a material with "strong characteristics of resistance to bending". So he selected CRP Technology and its Windform SP composite material.
"Windform SP - Miro adds - guarantees excellent resistance even in very thin thicknesses; this feature allowed me to create a spike shoes with a perfect foot envelopment, that facilitates an increase of the comfort and the enhancement of the performance."
CRP Technology manufactured as single unit Pleko's outsole, midsole, ribs and pins.
Ribs are originated from under the outsole, in correspondence with the lines of maximum effort during the track race.
Once the structural part was 3D printed, other tests carried out on the Pleko.
Buroni was very satisfied with the results achieved: "The design and manufacturing technologies, combined with the Windform SP and its mechanical characteristics, made the Pleko track shoes highly innovative, taking the entire, whole project to the highest level of customization and specialization. I am very satisfied with my 3D printed Pleko and Windform SP."
windform.com
Featured Product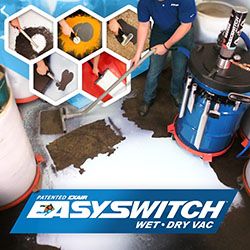 Hot and dirty processes can be a major issue for manufacturing companies. You may be looking to cool, clean, spray, blowoff, eject parts, keep your production line running or a myriad of other problems. EXAIR offers products to solve those issues. Learn More Now. https://exair.co/184_ttprod