Probe-style temperature measurement for industrial applications
Turck introduced the TS+ temperature sensor, a line of programmable temperature sensors that are used to measure industrial process temperature of a media. The TS+ is part of a large family of fluid sensors, including pressure, flow, temperature and level products. A rotating display for simple orientation adjustment is standard on all models, allowing the user to orient the display for optimum viewing after installation. The TS+ stainless steel housing is rated to IP6K9K, meaning it is sealed against dust and high-pressure jet washing for a longer service life. The sensors are available in direct and remote mount variations with a large portfolio of temperature probes, thermowells and mounting accessories.

The TS+ can be used in a wide range of manufacturing applications to help monitor the health of a machine, reducing costly downtime. For example, temperature monitoring of hydraulic oil in stationary hydraulic power units is vital. High temperature in hydraulic systems can lead to system outages. The IO-Link, analog, and switching outputs of the TS+ are well suited to provide early warning and real-time measurement of these critical fluids.
• Multiple process connections available; reduces adapter use
• Automatic detection of output signals; speeds installation and reduces errors
• Automatic detection of temperature probe installed; reduces errors and installation time
• Rotatable IP6K9K-rated stainless steel housing; ensures reliability
• Multi-color display; provides easier set up and commissioning
About Turck
Turck is a pioneer in automation technology, providing customers with a comprehensive line of quality and advanced technology products in a fast, flexible and accurate manner. With more than 4,800 people working in 30 countries, Turck has built global partnerships with customers based on engineering expertise, flexibility, and our willingness to take on engineering challenges that others will not. For more information, visit www.turck.us.
Featured Product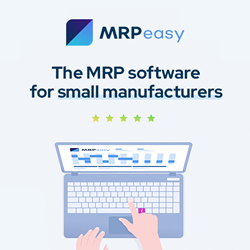 Always know what you have in stock and what you'll need to fulfill orders. Never forget to order parts on time or fail to notice a late delivery from your vendor. Easily create manufacturing orders and schedule them automatically according to resource availability or delivery deadline. Generate accurate cost and lead time estimates and provide customers with quick quotes. Receive notifications when orders are late or inventory levels reach a critical point. Ensure seamless communication between sales, production, warehousing, procurement, administration, and finance. Integrate with popular accounting, CRM, and e-commerce apps. MRPeasy is an ERP software for small manufacturers that gives you all that and more. Our users report a 54% average improvement in the overall performance of their business and a 42% increase in on-time deliveries. Try for free, no credit card needed.