Ideal for monitoring and managing key welding variables in process development and production environments
AMADA WELD TECH announces the new MM-400A desktop resistance weld checker. With the MM-400A, operators can easily monitor and manage key welding variables that result in changes in weld heat, including current, voltage, time, force and displacement. The compact unit supports AC, DC inverter, AC inverter, transistor and capacitive discharge resistance welding technologies.

The MM-400A is ideal for use in process development, where it can be used to correlate waveform and numeric data with process results and provide detailed weld data for process optimization and validation. In a production environment, it reduces scrap by detecting drifts in the weld process and alerting operators before process failure. The MM-400A also reduces the frequency of destructive testing and provides an independent way of monitoring the welding power supply.
The MM-400A features a simple and intuitive user interface and colour touch panel display. An envelope function allows the operator to set upper and lower segmented or continuous limits around the entire waveform. The unique seam welding mode monitors AC current and voltage or DC voltage for up to 5 minutes. The unit provides ISO17657-compliant measurement for current (when used with available ISO-compliant toroidal coil) and offers Ethernet (TCP/IP), and RS-232/485 communication. Pre-weld displacement measures workpiece thickness prior to welding. Multi-language support includes English, Spanish, Japanese, Chinese, Korean, German, and French.
Available accessories include shunt resistor force sensors, a built-in force sensor, displacement sensors, and weld thru sensors that offer simultaneous measurement of applied force.
For more information, visit the AMADA WELD TECH website at http://www.amadaweldtech.eu.
Featured Product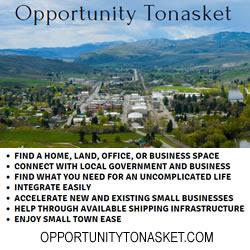 Our primary mission is to promote economic development and growth in the city of Tonasket, WA and surrounding area. This is a group of local citizens sharing a common goal. We wish to assist and promote existing businesses wishing to relocate, local businesses wishing to expand and local individuals wanting to startup a business. Preserving and enhancing the small town and rural lifestyle in a way which benefits everybody and maintains a healthy lifestyle. Opportunity Tonasket was created to be a hub for information and contacts with local city and county agencies, as well as local businesses and real estate connections. Their goal is to connect current and newly relocated individuals and businesses and "plug them in" with the best services, advice and experts in the area. Opportunity Tonasket is like a leg-up, as if one's already had a foothold in the community.