Food and Beverage brands piggyback on consumer passion via custom mobile marketing trailers that introduce new product, deepen existing loyalty, and provide important feedback
For food and beverage companies aiming to reach consumers with impact, one of the surest ways is to pair their love for a favorite team or activity, along with their excitement at attending a big event, to introduce a new product or deepen their connection to an existing one.

The strategy, also called an event marketing experience, live marketing, or consumer activation, is successfully used by major brands not only at some of the largest, high profile events like the Super Bowl or NASCAR races but also at festivals, concerts, and other special events of all sizes around the nation.
With this type of promotion, consumers not only observe the brand but also immerse themselves in the experience first-hand from custom experiential mobile marketing trailers and surroundings via sampling, games, contests, merchandise giveaways, and themed selfies.
Because this approach significantly deepens customer interaction and makes it more shareable via social media, companies can achieve dramatic success mixing promotional marketing with events. In addition, it provides a perfect opportunity to receive direct customer feedback that can be vital to optimizing marketing or product development.
Super Impact at the Super Bowl
When Lipton Tea sought to maximize engagement and entice customers with new product flavors, as part of sponsoring Super Bowl LIV, the global beverage company turned to Burlington, Vermont based Fuse, a full-service marketing agency that provides branding, creative, experiential, and social media services. Since 1995 the agency has served clients such as Starbucks, Mountain Dew, and Frito-Lay with a focus on creating authentic brand engagement for teens and young adults.
Lipton Tea, in consultation with Fuse, chose to utilize a custom, themed, mobile marketing pod, designed to serve product samples to large crowds at a "Super Bowl Village" of sponsors at a public park in Miami Gardens, Florida leading up to the big game.
For help with this in a short timeframe, both turned to St. Charles, MO-based Craftsmen Industries, a rapid designer and fabricator of custom mobile trailers, vehicles, and pods since 1982 for organizations such as Anheuser-Busch, PepsiCo, House of Suntory, and dozens of other worldwide brands.
"Initially, we wanted to create the front porch of a country house, where consumers could sit back, sample product, interact with brand ambassadors, and enjoy the new with the old, along with games and promotional giveaways. But we lacked the time to start from scratch," says Scott Rivers, Production Director at Fuse.
As a solution, according to Rivers, "Craftsmen offered an existing marketing pod and fabricated side and roof structures to create our vision. They provided our creative teams renderings and their engineering team created CAD drawings for us to review and approve," he says.
The end result was a custom-built pod, along with exterior display elements for a larger presence, designed to attract and wow consumers, while serving product samples to large crowds.
With the design, an open-air stage invited consumers to interact with the brand and take selfies with Lipton and Super Bowl branded elements, custom neon signage, and color-matched paint work. An interactive game was incorporated involving throwing a football through a swinging tire, with the winners receiving Lipton/Super Bowl branded merchandise.
Perhaps most importantly, two serving windows allowed the tour team to easily serve samples at eye-level with consumers and get their direct input on product, as needed.
"With Craftsmen's help, we had this done within five or six weeks, which is pretty darn good because it was a complicated build with a lot of fabrication involved," says Rivers. I don't think there is anything they can't build whether metal structures, decorative forms, or integrated electronics. If you can dream it, they can build it."
For projects like Lipton's requiring customized units that must be ready for product launch dates or scheduled events, a nimble, fully integrated company like Craftsmen ensures timely turnaround, even on short notice. Because the company offers design, engineering, fabrication, and large format print and installation services under one roof, it can deliver mobile units in about half the standard turnaround time in the industry.
However, even with short project timelines, this approach can leave a memorable impression on consumers that can capture the imagination and solidify brand loyalty.
"The impact of big event, immersive experiential marketing on consumers is deep. It is great for brands to be associated with the events consumers love because the next time they go to the store they will remember the excitement and the product," says Rivers.
He adds, "Experiential marketing is a superior platform for many of the sampling programs we do, particularly new offerings, because consumers are not committing to buying a whole bottle or package. When they try something new and like it, they often ask for it at their local store."
According to Rivers, there is another plus to live marketing at such events: it can facilitate important marketing research.
"Whether for new product offerings or an established product, brands can also take in data about who their consumers are onsite - and get elaboration if needed - so they can better serve them in the future," says Rivers.
Capitalizing on Community Events
When Kona Brewing, a top global craft beer brand, sought to promote its Big Wave Golden Ale in a powerful way that linked the customer's experience to the brand's Hawaiian roots, it looked to experiential marketing.
Salt XC, a Canada based marketing agency specializing in experiential commerce, developed the creative concept behind a mini campaign to promote the ale. This utilized a Hawaiian beach themed mobile trailer to elevate ordinary product sampling to a more memorable "moment in paradise."
To launch the mini-campaign quickly and cost-effectively, Craftsmen provided a pre-existing 24' mobile trailer with some unique features from their lot. The custom mobile unit designer and fabricator worked with Salt XC and Kona Brewing to transform it into a little bit of Hawaii for those sampling the ale, which has a tropical hop aroma and flavor.
Salt XC selected Turnkey DOT, a nationwide event management company that operates mobile marketing vehicles for experiential campaigns, to transport the trailer and operate it at events.
"Over a long weekend at a marketplace in downtown Denver, we reached out to the community and the trailer created a really memorable, Hawaiian island experience. Craftsmen created a floor with actual sand and foliage that felt like you were sitting on the beach enjoying a Kona beer, so market goers were excited to take selfies," says Brian Moore, Turnkey DOT VP of Marketing/Business Development.
According to Moore, since the trailer opens up to reveal its glass side, anyone walking by could see the beach scene inside. "It was a great way to have fun and create social media buzz that resonated with the brand in an authentic way," says Moore.
He adds that next to the trailer, outside, a bar was set up that allowed market goers to get free samples of the ale before they sat down in an accompanying "beer garden" or continued along their way.
In a separate later event, the portable Hawaiian themed trailer, sampling bar and beer garden were also transported to the parking lot of a beer distribution partner.
"It was a treat for the distributor's employees to 'go to Hawaii at work' and sample the Big Wave ale. It was very well received. Craftsmen did a remarkable job of bringing the brand concept to life in a way that can hold attention at events anywhere," says Moore. He notes that the mini campaign may, in fact, be extended at Kona's discretion.
In a world when capturing consumer attention is increasingly difficult, when reaching customers at a deep interactive level and piggybacking on their passions is desired, experiential marketing at big events is an important sales and branding tool to have available.
For more information: Call 1-636-203-8870 toll free; Visit www.craftsmenind.com; Email seth@craftsmenind.com.
###
By Del Williams
Del Williams is a technical writer based in Torrance, California.
Featured Product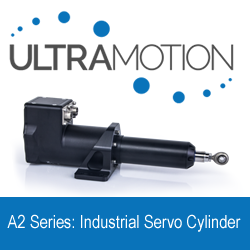 The AM series actuator is our most heavily ruggedized Servo Cylinder model. It features high performance mil-spec connectors and has been hardened to higher magnitude mechanical shock and vibrations. This actuator is suitable for harsh environments.