A large selection of off-the-shelf products and customized solutions ready within 5 business days
Mineola, NY - KHK USA Inc., a factory owned distributor of the market leading KHK® brand of metric gears, announces its extensive line of metric spur gears. A large selection of off-the-shelf KHK Spur Gears are available in many materials, configurations, modules and numbers of teeth, and KHK quick customized products can ready within 5 business days.

Spur gears are cylindrical disks which have involute shaped teeth cut into their face. The meshing of spur gears results in rolling contacts producing high efficiency of about 95 - 98%. Secondary operations that can be performed include opening the bore, adding of keyways, adding of tapped holes, or reduction of the hub diameter.
KHK Spur Gears are available in a wide variety of materials including structural carbon steel S45C, structural alloy steels SCM440 (medium carbon steel) and SCM415 (low carbon steel), gray cast iron FC200, stainless steels SUS303 and SUS304, nonferrous metal C3604 (free cutting brass), engineering plastics MC901 and MC602ST. Materials conform to U.S. standards including AISI, SAE, ASTM, and AGMA.
The production process of KHK cylindrical gears, including spur gears, depends on consideration of tooth size expressed in module or DP (diametral pitch), configuration, material, heat treating, method for finishing the tooth surface, precision of the gears and manufacturing quantity. The typical production sequence involves cutting off material, blank making on a lathe, tooth cutting on a hobbing machine and deburring. KHK also offers a new method in which a 5-axis machining center is used in combination with gear manufacturing software.
For more information on KHK Spur Gears, please visit: https://www.khkgears.us/products/spur-gears/.
###
About KHK USA Inc.
KHK USA, based in Mineola, New York, is a wholly owned subsidiary of Kohara Gear Industry. KHK USA is a factory direct, full-service distributor of KHK gears with a large selection of product available off-the-shelf and via frequent replenishment to meet your gearing needs. On staff application engineers assist customers with a wide selection of gears for their design or can produce customer gear quotations.
Featured Product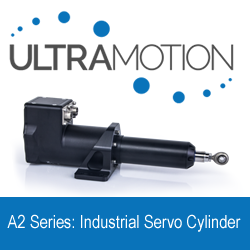 The AM series actuator is our most heavily ruggedized Servo Cylinder model. It features high performance mil-spec connectors and has been hardened to higher magnitude mechanical shock and vibrations. This actuator is suitable for harsh environments.