Ready-made grades combine virgin polypropylene with high-quality reclaimed materials.
Taylorsville, N.C. - Borealis, a leading supplier of innovative polyolefin plastic materials for engineering applications in the automotive industry, announces the availability of Borcycle™, its innovative polyolefin-based solution composed of both virgin and post-consumer recyclate (PCR) for the North American automotive market. The Borcycle™ family of products have been conceived for interior, exterior and under-the-bonnet automotive applications and incorporate post-consumer recycled (PCR) content for a lower environmental impact.

Originally developed by Borealis in Europe, ready-made PCR Borcycle™ grades combine virgin polypropylene with high-quality reclaimed materials. They are safe to use and provide a material performance and cost-efficiency equal to the performance and cost-efficiency of virgin materials.
Products in the Borcycle™ family are backed by a reliable supply chain and quality standards. Borealis has conquered the challenges associated with sourcing and processing recycled content. As a result, automotive customers and partners can rely on a steady supply of resource-efficient Borcycle™ grades with consistent high quality.
For more information about innovative Borcycle™ materials and solutions, visit
https://borealisdrivingtomorrow.com/#borcycle
About Borealis
For over 25 years, Borealis has been a leading provider of polyolefins, base chemicals, and fertilizers. In line with its mission to Keep Discovering, innovative solutions made possible by Borealis are driving the transformation to a more circular economy.
Featured Product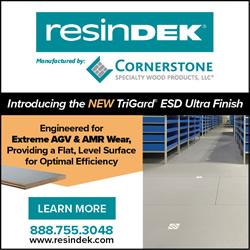 ResinDek flooring panels are designed for elevated platforms such as mezzanines, pick modules, and work platforms. They have the proven structural integrity to support dynamic and static rolling limits from 2,000 to 8,000 lbs. ResinDek flooring panels are available in a multitude of options that are customized for load capacities, required finish type, volume and type of traffic including heavy rolling pallet jack loads and robotic traffic with AGVs and AMRs.