New Model Delivers Cost-Effective Solution for Machine Vision
The latest addition to Balluff's SmartCamera portfolio provides a cost-effective option for manufacturers wanting a machine vision system but not requiring image analysis features.

The new BVS XL SmartCamera Lite is a simplified version of Balluff's existing smart camera. It provides the same quality control of objects but without some tools that aren't needed for simpler tracking and monitoring applications.
This new lite model is another option for customers needing a machine vision system but not requiring all the image analysis of the full-size smart camera models. But, like our other smart cameras, it allows customers to detect production defects early in the manufacturing process. It detects machine codes, text including serial numbers, and guides robots in position finding.
It is easy to implement all of its testing routines with the built-in Cockpit software. All you need to configure the SmartCamera Lite is your web browser.
You can generate inspection programs and transfer the results to the controller or file servers. You can adjust the amount and format of the data as needed. This lets you reduce the amount of data sent over the process network. Integration into your existing system is also easy using its 6 programmable IOs. IT and OT communication are delivered via EtherNet TCP/UDP.
For more information on Balluff machine vision, visit http://www.balluff.com.
Learn more at: http://www.balluff.com
About Balluff Inc.
Balluff Inc. is the U.S. subsidiary of Balluff GmbH, Neuhausen, Germany. Balluff is a leading supplier of networked IO-Link control system architectures that unlock the potential of the IIoT and Industry 4.0. Balluff offers a wide range of intelligent IO-Link and industrial Ethernet sensors in a variety of technologies including inductive, photoelectric, capacitive, and magnetic as well as magnetostrictive linear position sensors, magnetic tape linear encoders, industrial RFID systems, and industrial vision systems. Balluff provides cost-saving, process-enhancing solutions to machine builders and manufacturers to control, regulate, automate, assemble, position, and monitor manufacturing, assembly, and packaging sequences. Industries served include: automotive, packaging, food processing, beverages, tire, primary metals, conventional and alternative energy, semiconductor, plastics, and fluid power.
Featured Product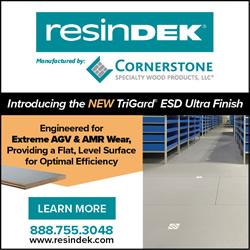 To maximize the productivity of an autonomous mobile robot (AMR) or automatic guided vehicle (AGV) deployment, it's critical to create the optimal environment that allows the vehicles to perform at their peak. For that reason, Cornerstone Specialty Wood Products, LLC® (www.resindek.com) created the TriGard® ESD Ultra finish for its ResinDek® engineered flooring panels. The TriGard ESD Ultra finish is ideal for high-traffic robotic applications characterized by highly repetitive movement patterns and defined travel paths.