Full line of drive electronics provides exceptional flexibility with a wide range of customization options.
NORD DRIVESYSTEMS has been developing drive electronics for more than 30 years and is one of the pioneers of innovative inverter technology. With their family of NORDAC® variable frequency drives, they can provide complete drive solutions that are smart, compact, and cost effective. Additions to the line include new control cabinet models, as well as new decentralized VFDs, both of which have proven to be particularly useful for intralogistics applications.

Thanks to the practical advantages of decentralized drive technology, variable frequency drives that are installed close to the motor or mounted directly on the gearbox work exceptionally well for conveyor technology. Other industries with large-scale drive systems are increasingly moving to decentralized VFDs that allow installation outside of the control cabinet to be cost-effective. In addition to being economical, the NORDAC product range is highly customizable with functionality that meets a wide variety of application demands.
Full Flexibility: Decentralized Variable Frequency Drives
The robust NORDAC BASE variable frequency drive has been designed as an economic variant for simple decentralized drive solutions, such as parcel and logistics centers. The NORDAC FLEX offers larger functional ranges and can be scaled to any customer application. Additionally, its extensive plug-in capability and easy parameter transfer allow for quick installation and easy maintenance. The NORDAC LINK Field Distribution System (FDS) raises functional ranges and interface options to a new level. These VFDs are available in three sizes (1 HP, 4 HP, and 10 HP) and can also be used as motor starters. They are flexible in configuration and function, freely configurable according to requirements and applications, and compatible with all common bus systems. In combination with an energy-efficient synchronous motor and a 2-stage helical bevel gear unit, they create the LogiDrive complete solution and the basis for efficient, tailor-made drive solutions for intralogistics applications.
Optimum Performance in the Control Cabinet
Powerful control cabinet variable frequency drives are an important technology element, despite the trend towards decentralization. They can tackle high power applications within limited spaces that are housed and protected within a control cabinet. NORD DRIVESYSTEMS provides the versatile and proven NORDAC PRO SK 500E VFDs for control cabinet installation in 11 sizes for powers from 0.33 to 215 HP. With the new NORDAC PRO SK 500P product range, NORD has launched a new generation of variable frequency drives. The range features ultimate levels of functionality (e.g. integrated positioning function and synchronous motor operation), connectivity (with USB port, universal Ethernet interface and others), and modularity. There are basic and advanced VFDs with optional modules for interface extensions. In addition to improved characteristics and performance features, this new generation of variable frequency drive uses the proven NORDAC parameter structure and is physically and functionally downward compatible.
NORD manufactures a wide selection of gearboxes, electric motors, and drive electronics in various sizes and configurations for companies in intralogistics, food and beverage, airport baggage handling, grain and bulk material handling, and other demanding markets. The modular design offers unlimited versatility with more than 20,000,000 combinations of custom gear motors and speed reducers - in-line or right-angle, mounted by foot or flange, featuring solid or hollow shafts - to give customers complete freedom to specify a drive solution that's perfect for the job. For more information, visit www.NORD.com, call 888-314-6673, or e-mail info.us@nord.com.
###
About NORD DRIVESYSTEMS® Group
With more than 4,000 employees, NORD DRIVESYSTEMS has been developing, producing, and selling drive technology for over 50 years, and it is a global leader among full-service providers in the industry. In addition to standard drives, NORD delivers application-specific designs and solutions for special requirements, such as energy-saving drives or explosion-protected systems. NORD has subsidiaries and sales partners in 98 countries worldwide. The dense sales and service network guarantees optimal availability, enabling short delivery times, and customer-oriented service. NORD produces a very diverse range of drives for torques from 88 to more than 2.2 million lb-in, provides electric motors in the power range of 0.16 to 1,341 HP, and manufactures frequency inverters with the required power electronics of up to 215 HP. Inverter solutions are available for conventional control cabinet installations as well as for decentralized, fully-integrated drive units. Visit Nord.com.
Featured Product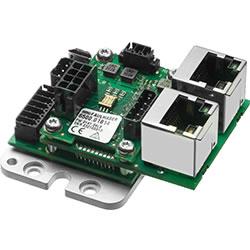 MICROMO launches the new MC3/MCS motion control family. The new high performance, intelligent controllers are optimized for use with FAULHABER motors, offer electronics for simple operation with state-of-the-art interfaces for multi-axis applications, and provide a motion control system solution with the most compact integration into industrial grade housing.