PrintParts, a New York City-based additive manufacturing service, has expanded its fleet of Markforged machines by 20 printers, to increase production capacity of carbon fiber reinforced parts.
New York City, NY - April 7, 2021 - PrintParts, a New York City-based additive manufacturing service, has expanded its fleet of Markforged machines by 20 printers, to increase production capacity of carbon fiber reinforced parts.

PrintParts uses Markforged Industrial Composite and Desktop systems to produce end-use parts for defense, industrial and medical applications, using engineering-grade materials that include carbon fiber filled nylon and continuous carbon fiber and Kevlar.
Parts printed with composite materials, such as carbon fiber, offer significant strength and stiffness advantages compared to standard thermoplastics. Composite parts are ideal for applications that have high functional requirements and can often replace heavier metal parts. Common use cases include jigs and fixtures, enclosures, brackets, and end-of-arm tooling.
"PrintParts provides a fantastic service to manufacturers," said Bryan Painter, Vice President of the Americas at Markforged. "PrintParts' expansion of 20 additional Markforged printers allows them to meet their customers' ever-growing demand for high-performance prototypes, end-use parts and scalable production. PrintParts is truly a company reinventing manufacturing."
Over four years ago PrintParts invested in its first Markforged system and has since added additional machines to support continued and growing demand from customers seeking lightweight, strong, and functional end-use parts. In total, the Company has accrued over 43,000 print hours on Markforged systems alone, approximately five years of continuous 3D printing.
"The addition of 20 new systems will triple our production capacity," says Michael Ruddy, Production Manager at PrintParts. "We can now produce over 10,000 parts per week, and dramatically shorten lead times for our customers."
Founded in 2016, PrintParts has established itself as an additive manufacturing service provider with a focus on production services for industries that include aerospace, automotive, defense, robotics, and medical devices. In 2020, PrintParts significantly grew its operations to support the New York City government as a prime contractor for COVID testing supplies, ultimately delivering over 1.5 million nasopharyngeal (NP) swabs.
Recently, PrintParts has been rapidly expanding its capacity to meet customer demand for low to mid volume end-use part production, including the recent addition of the Formlabs Fuse 1 selective laser sintering (SLS) system and multiple EnvisionTEC Envision One industrial systems.
"We began working with PrintParts to supply us with a low volume run of functional prototypes," said Tom Kennedy, Hardware Engineering Director at Sidewalk Labs. "The carbon filled parts were delivered fast, on-time and were perfect for our application. It really changed our thinking around 3D printed materials and their assumed limited application to prototyping. It's easy to see how working with a partner like PrintParts could enable the use of 3D printed composites for mass production."
About PrintParts Inc.
PrintParts Inc. offers advanced manufacturing solutions using additive manufacturing. Headquartered in Manhattan, PrintParts operates in the heart of New York City and online at PrintParts.com with a mission to help more customers print parts on demand at a fraction of the cost. The company's manufacturing services include prototyping and production of industrial-grade parts for end-use applications using a wide range of additive technologies and materials. For more information, visit www.printparts.com
Featured Product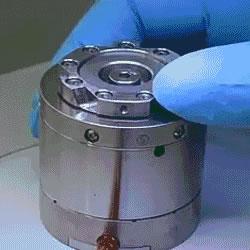 Hexapod micro-motion 6-axis platforms are based on a very flexible concept that can easily solve complex motion and alignment problems in fields including Optics, Photonics, Precision Automation, Automotive, and Medical Engineering.