"Rexroth ON LOCATION — The Future of Factory Automation" will feature world-class precision automation customer DWFritz Automation and their development of a highly complex automated assembly line
Experts from both companies will come together to discuss how they implemented a concurrent design/build project for a complex, high speed "factory of the future" automated assembly line. During the webinar, attendees will learn how Bosch Rexroth can transform current manufacturing lines into the future.

DWFritz Automation (www.dwfritz.com) designs and manufactures custom automation systems for advanced manufacturing in the medical device, aerospace, consumer electronics, energy storage, automotive, semiconductor and other industries.
The discussion will explore the challenges as well as the engineering and technology solutions used to successfully speed up the process for getting a high-precision consumer electronics assembly line to market.
In addition to engineering support, Bosch Rexroth provided a multi-technology offering from its Automation and Electrification, Linear Motion and Assembly Technology business units.
The automation platform included the new ctrlX CORE controller from Bosch Rexroth's recently introduced ctrlX AUTOMATION system. With its open and flexible architecture, ctrlX CORE removes the boundaries between IPC, embedded system and drive-based technology platforms.
Relevant to anyone responsible for managing complex machine automation projects, the panel of experts will cover several areas, including:
• Simplifying a complex design/build process to shorten lead times and accelerate time to market
• Successful collaboration for engineering, logistics and fulfillment
• Realization of advanced automation, linear motion and assembly technology and components
In addition, this free, one-hour webinar will open up for attendee Q&A.
For more information and to register for "Rexroth ON LOCATION — The Future of Factory Automation," visit www.RexrothONLOCATION.virtualeventsite.com/registration.
About Bosch Rexroth:
As one of the world's leading suppliers of drive and control technologies, Bosch Rexroth ensures efficient, powerful and safe movement in machines and systems of any size. The company bundles global application experience in the market segments of Mobile Applications, Machinery Applications and Engineering, and Factory Automation. With its intelligent components, customized system solutions and services, Bosch Rexroth is creating the necessary environment for fully connected applications. Bosch Rexroth offers its customers hydraulics, electric drive and control technology, gear technology and linear motion and assembly technology, including software and interfaces to the Internet of Things. With locations in over 80 countries, roughly 31,000 associates generated sales revenue of roughly 6.2 billion euros ($7.3 billion) in 2019.
To learn more, please visit www.boschrexroth-us.com.
About Bosch:
The Bosch Group is a leading global supplier of technology and services. It employs roughly 403,000 associates worldwide (as of December 31, 2019). According to preliminary figures, the company generated sales of 77.9 billion euros in 2019. Its operations are divided into four business sectors: Mobility Solutions, Industrial Technology, Consumer Goods, and Energy and Building Technology. As a leading IoT company, Bosch offers innovative solutions for smart homes, smart cities, connected mobility, and connected manufacturing. It uses its expertise in sensor technology, software, and services, as well as its own IoT cloud, to offer its customers connected, cross-domain solutions from a single source. The Bosch Group's strategic objective is to deliver innovations for a connected life. Bosch improves quality of life worldwide with products and services that are innovative and spark enthusiasm. In short, Bosch creates technology that is "Invented for life." The Bosch Group comprises Robert Bosch GmbH and its roughly 440 subsidiary and regional companies in 60 countries. Including sales and service partners, Bosch's global manufacturing, engineering, and sales network covers nearly every country in the world. The basis for the company's future growth is its innovative strength. At 125 locations across the globe, Bosch employs some 72,000 associates in research and development.
Additional information is available online at www.bosch.com, www.iot.bosch.com, www.bosch-press.com, www.twitter.com/BoschPresse
Featured Product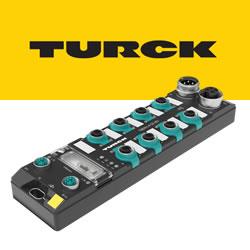 The new IP67 Managed Ethernet Switch from Turck provides standard and Gigabit ports in the same device. Configure, manage, and monitor connected machines and devices remotely, outside of a control cabinet. Find out more about this rugged solution for decentralized control. Part number TBEN-Lx-SE-M2. • Gigabit high-speed backbone for fast link-up times • Standard and Gigabit ports on the same device • Web-based diagnostic tools for preventive maintenance • Built-in security with the use of VLAN, NAT routing and firewall