Structur3d's rubber injection molding innovation in collaboration with Ultimaker's 3D printing platform to enable 3D-printed molds that wash away earned it a place on the 2020 Ultimaker Innovators list
WATERLOO, Ontario, February 17, 2021 — Structur3d — a leader in the advanced additive manufacturing market for soft materials—today introduces water-soluble molds for use in custom-manufacturing rubber parts. The company's Inj3ctor Platform, which injects industrial-grade liquid materials into 3D-printed molds, leverages the dissolvable PVA filament and 3D printing technology of Ultimaker, global leader in professional 3D printing, to custom design complex molds that dissolve in regular tap water. The solution, along with Structur3d's Inj3ctor platform, earned Structur3d a place on the 2020 Ultimaker Innovators list.

As larger manufacturers explore the future of manufacturing custom and on-demand products for consumers, they face new challenges to create high-quality products. 3D-printing alone is not enough to develop factory-grade flexible parts. In response, Structur3d launched the Inj3ctor platform that injects 3D-printed molds with factory-grade liquid materials to create flexible parts. However, if the custom part includes complex shapes, the removal of insoluble plastic molds increases the risk of damage to the rubber part. That's why Structur3d launched a solution that 3D-prints molds using single-use dissolvable filament that washes away in the water. This solution allows manufacturers to design more intricate parts without the damage risk. The molds are 100% biodegradable with no hazardous by-products, and the material has strong thermal stability, withstanding the heat produced by silicone's curing process.
Ultimaker's open platform enables innovative solutions from companies like Structur3d. The Inj3ctor platform harnesses Ultimaker Cura and the Ultimaker S5 3D printer and soluble PVA molds to create the first solution on the market to combine the principles of injection molding with 3D printing. Using 3D-printed molds, the Inj3ctor uses curated material cartridges to mix and inject 2-component (2K) flexible materials into any customizable shape, enabling turnkey, small-batch manufacturing of rubber materials. The company is advancing and solidifying 3D printing's role within industrial manufacturing by expanding its material capabilities to create new products with factory-grade rubber materials, like silicones and polyurethanes.
"We are extremely grateful to be named to the 2020 Ultimaker Innovators list. As product developers, we have used Ultimaker's line up of 3D printers since the launch of our first product, the Discov3ry," says Dr. Andrew Finkle, Co-founder and CTO of Structur3d. "The quality and openness of Ultimaker's products empowered us to continue creating new solutions for our customers, and that lead to the development of our Inj3ctor platform."
Nuno Campos, CMO at Ultimaker shared on Ultimaker.com that: "The Innovators List reminds us to maintain our natural sense of wonder for this technology and the curiosity that goes with it.The best innovations don't emerge from boardrooms; instead, they come from creative individuals who can apply new technologies in different ways."
To learn more about Structur3d and its new Inj3ctor platform, visit www.structur3d.io.
About Structur3D
Founded in 2014 and headquartered in Ontario, Canada, Structur3d has helped manufacturers realize the factory of the future by incorporating 3D Printing technology into additive manufacturing. Founded by scientists and chemical engineers rather than mechanical engineers, the company approached 3D printing from a materials perspective, developing 3D Printing technology solutions for additive manufacturing using factory-grade rubber materials, like silicones and polyurethanes. Its customers include Fortune 500 companies, high-ranking global universities, and government and military research labs. To learn more about Structur3d and its new Inj3ctor platform, visit www.structur3d.io.
About the 2020 Innovators List
The 2020 Ultimaker Innovators List is the first in what is planned to become a yearly celebration of desktop 3D printing technology and the innovative results that can be achieved through its use. The 2020's Ultimaker Innovators list was compiled from nominees by Ultimaker's Community and Content Marketing teams. The full list is available on ultimaker.com/innovators.
Featured Product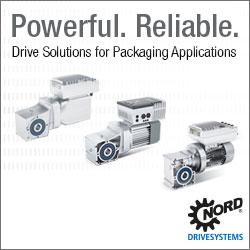 NORD's redesigned line of small CLINCHER parallel gear units showcase increased power and torque capacity for a variety of applications. These re-engineered versions will be replacing the existing SK0182NB, 0282NB, and 1382NB units. They are lightweight, have improved heat dissipation, are more cost-effective, and are available with NORD nsd tupHTM sealed surface conversion for wash-down and extreme environments.