For nearly six decades Stahlin® has brought the many benefits of non-metallic enclosures to panel shops.
Belding, Michigan --- Stahlin® Enclosures -- the world's most specified non-metallic electrical and industrial enclosures --- has continued to build on its service to panel shops.

For nearly six decades Stahlin® has brought the many benefits of non-metallic enclosures to panel shops that have benefited from Stahlin's long leadership in providing extensive off-the-shelf enclosures as well as diverse customization and modification capabilities.
Says Craig Mitchell, President of Robroy Enclosures® of which Stahlin® is a brand: "There are many reasons why panel shops are increasingly accepting non-metallic enclosures as the best choice over stainless steel. At the top of that list: cost and availability. It's a fact that non-metallic enclosures are more cost-effective. Users of stainless steel enclosures have been paying a premium because of repeated stainless steel price increases. Non-metallic enclosures, especially those in smaller sizes, can be significantly less expensive than stainless steel and larger sizes on non-metallic enclosures are comparable and competitive with stainless steel in terms of cost."
Mr. Mitchell continues by noting that Stahlin® has been able to meet the availability demands of panel shops. "Competitive pricing is supported by our vertically-integrated Made-In-The-USA manufacturing," he states. "Speed-of-delivery is made possible through nearly a thousand stocking distributors in all 50 states and major cities."
Panel shops are also acknowledging that non-metallic enclosures offer other significant benefits as opposed to stainless steel, including:
• More design flexibility
• Greater dimensional stability
• Better corrosion resistance
• Easier modification
• Lighter weight for easier handling
• Electrical insulation properties
• Broader aesthetic qualities
In the comparison of non-metallic enclosures to stainless steel enclosures, more and more panel shops are concluding that the winning edge clearly goes to non-metallic.
For additional information visit:
www.stahlin.com
Featured Product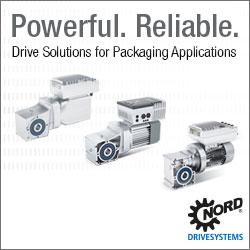 NORD's redesigned line of small CLINCHER parallel gear units showcase increased power and torque capacity for a variety of applications. These re-engineered versions will be replacing the existing SK0182NB, 0282NB, and 1382NB units. They are lightweight, have improved heat dissipation, are more cost-effective, and are available with NORD nsd tupHTM sealed surface conversion for wash-down and extreme environments.