Custom manufacturing leader comes in at #126 on Deloitte's list of the fastest-growing technology companies in North America
GAITHERSBURG, MD (November 19, 2020) - Xometry, the largest U.S. marketplace for custom manufacturing, was named to this year's Deloitte Technology Fast 500 list in North America, recognizing the company's 949% growth from 2016-2019. The company finished with an overall ranking of #126. The Fast 500 list is an annual ranking of the fastest-growing North American companies in the technology, media, telecommunications, life sciences, fintech and energy tech sectors and is now in its 26th year.

"Xometry continues to grow quickly, even in the midst of COVID-related supply chain disruptions," said Randy Altschuler, Xometry's CEO. "I am proud of our team's incredible work and would like to thank Deloitte for recognizing us on this year's Fast 500 list. We are honored to be included along with many companies that, like us, are transforming their respective industries."
According to Deloitte, the Technology Fast 500 award recipients are selected based on percentage fiscal year revenue growth from 2016 to 2019.
Xometry's rapid growth has continued in 2020, with the company recently raising $75MM from investors including T. Rowe Price Funds and Durable Capital Partners LP. The company has also been expanding rapidly in Europe, where it began operating after the acquisition of Munich-based Shift in November 2019.
About Xometry
Xometry is the largest marketplace for custom manufacturing, connecting customers with optimal manufacturing solutions through proprietary AI algorithms. Xometry provides on-demand manufacturing and industrial supply materials to a diverse customer base, ranging from startups to Fortune 100 companies, including BMW, Dell Technologies, General Electric, Bosch, and NASA. Our nationwide network of thousands of supplier manufacturing facilities enables us to maintain consistently fast lead times while offering a broad array of capabilities, including CNC machining, 3D printing, sheet metal fabrication, injection molding, and urethane casting. Additionally, Xometry offers its supplier network an array of financing solutions to help improve cash flow and achieve better growth and efficiency.
Learn more about Xometry at www.xometry.com or on Twitter at @xometry.
Featured Product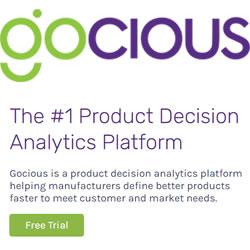 What are product decision analytics? Configurable products, including assemble-to-order, bring customization and choice to customers. They are also complex to plan. Each configurable product can have many possible variants, some of which are not buildable or don't meet the needs of the customer. Gocious enables you to analyze and define your product line features and configurations early, before detail design and production, to reduce time-to-market, waste, and rework.