Manufacturers seeking to better address sensing challenges on flexible manufacturing lines can benefit from the E3AS-HL Series CMOS photoelectric sensors recently launched by industrial automation solutions provider Omron Automation Americas.
Complete automation solutions provider Omron Automation Americas has released a new complementary metal oxide semiconductor (CMOS) photoelectric sensor family, the E3AS-HL Series. Designed to help manufacturers enhance flexibility and minimize maintenance needs, the new sensors provide stable detection even as objects vary thanks to their CMOS image array technology and the option to use either a line beam or a spot beam model.

Stable detection can be challenge on flexible manufacturing lines, given that conventional sensors often require user adjustments to accommodate an object's uneven shape or even require a change-out when the object's opacity, color or pattern changes. Omron's unique sensing technology dramatically reduces the influence of color patterns, glossiness and shape to allow for reliable detection amid changing production requirements.
The E3AS-HL Series also reduces the need for specialized engineering knowledge thanks to its simple teaching mechanism that makes setup quick and easy. Operators can complete the setup process by simply pressing the teach button, while the OLED display provides highly visible and clear status information. The sensors offer a variety of teaching options, including two-point object teaching, background suppression (BGS) teaching, foreground suppression (FGS) teaching and window setting for both FGS and BGS.
E3AS Series benefits include:
Stable detection for challenging parts. The E3AS-HL Series provides reliable detection of clear, highly reflective, or differently colored parts by leveraging CMOS technology.
Small part detection. Featuring small spot size for 500mm and 150mm sensing distance models, the E3AS-HL Series handles small part detection for most applications.
Selective detection. Foreground and background suppression allow for window setting and the differentiation of desired targets from surrounding parts or surfaces.
Ease of use. Sensor teaching is simplified with a single teach button as well as IO-Link and is easily read via a bright white OLED display showing set vs. actual detection values.
Data at the sensor level. With IO-Link, the E3AS-HL Series can communicate distance values in millimeters and be taught remotely to set detection thresholds. Like previous IO-Link capable sensors, output monitoring is also possible.
Robust design. The E3AS-HL sensors are made with SUS316L stainless steel and are suitable for use in harsh environments with IP67 and IP69K ratings.
Industry professionals seeking to learn more about the new CMOS photoelectric sensors are encouraged to visit the E3AS-HL Series product page on the Omron website.
About Omron Automation
Omron Automation is an industrial automation partner that creates, sells and services fully integrated automation solutions that include sensing, control, safety, vision, motion, robotics and more. Established in 1933 and currently headed by President Yoshihito Yamada, Omron's about 30,000 employees help businesses solve problems with creativity in more than 110 countries. Learn more at automation.omron.com.
Featured Product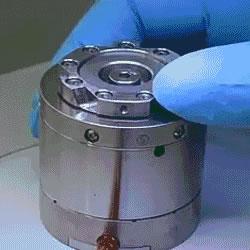 Hexapod micro-motion 6-axis platforms are based on a very flexible concept that can easily solve complex motion and alignment problems in fields including Optics, Photonics, Precision Automation, Automotive, and Medical Engineering.