Financing solutions to encourage manufacturers to bring supply chains in-house, are exclusively provided by ACCESS and Canon. Financing options are valid until December 31, 2020.
ACCESS Manufacturing Systems is pleased to formally announce a partnership with Canon Financial Services, providing manufacturers with generous financing solutions for the Markforged Industrial X7 3D Printer, as well as the Markforged Metal X 3D Printer.

"The disruption of global supply chains has been the biggest challenge in manufacturing caused by the pandemic. It's forced manufacturers to idle production while they rethink the resilience of their supply chains," said David Dulong, founder and president of ACCESS Manufacturing Systems. "It's a huge challenge. So, it was important that we, as a company, find a way to provide a more resilient manufacturing sector in the years to come. The best way we can do that is to provide industrial additive manufacturing options with affordable solutions. Once this technology becomes a staple in every shop, we've successfully fortified in-house supply chains, while fast-tracking automation."
The exclusive promotional financing solutions for both the Markforged X7 and the Markforged Metal X are as follows:
Finance Now, Pay Later:
Make no payments until January 2021, on terms from 36 - 63 months.
1 Percent Step Lease:
Low 1% step lease for the first year. On the Metal X, that would only be $1,374.90 a month, for the first 12 months. On the X7, that would only be $760.00 a month, for the first 12 months.
72-Month Term:
Extended 72-month lease term. Finance the Metal X system for as low as $2,344.20 a month. Finance the X7 for as low as $1,295.80 a month. (*See additional terms below)
"This is the year we were faced with just how fragile the global supply chain is in a moment of crisis. After thirty successful years in business, we felt a responsibility to find a way to help prevent manufacturers from facing such dire straights again," said Joe Lagennusa, national sales manager at ACCESS Manufacturing Systems. "With 3D printing technology advancing at such a rapid pace, we wanted to take a proactive approach in delivering this industrial-revolution-level technology on a large scale, with affordable options."
The Metal X is up to 10x less expensive than alternative metal additive manufacturing technologies, and up to 100x less than traditional fabrication technologies like machining or casting. The Metal X provides everything needed to go from design to fully functional metal parts. Metal X 3D printing materials include stainless steel, tool steel, Inconel, titanium and more.
The X7 composite printer prints parts 50x faster and 20x cheaper than traditional manufacturing technologies. Machined aluminum parts can be directly replaced with parts straight off the X7 3D printer. Parts printed with Onyx and reinforced with carbon fiber filament, fiberglass or Kevlar® are work-capable and ready the same day for a fraction of the cost.
Throughout 2020, ACCESS and Markforged have featured various companies that have added Markforged 3D printing systems to their production line.
Global window and door hardware manufacturer, Caldwell Manufacturing, use their Metal and Carbon Fiber 3D printers for both R&D and in-house tooling. With a Metal X and several carbon fiber 3D printers, Caldwell has reduced turnover and increased profits with Markforged.
Similarly, RPG Industries, Inc., a full-service manufacturer working with automotive, aerospace, and oil industry clients, decided to bring in a Markforged Metal X system and a Mark Two professional-series 3D printer, which has been used for a wide array of applications. "When I saw the technology and the price point, I knew that the Metal X would be a good fit for our company," said Robert Ginsburg, president, RPG Industries, Inc.
Additionally, Saskatoon-based metal fabrication company, Lean Machine, has used Markforged 3D printing for production. Lean Machine specializes in custom machining primarily for the commercial transportation and mining sector. To keep costs down and reduce the wear and tear on parts, the team turned to Markforged 3D printing technology for lean production. "We found Markforged by researching for the best printers out there for commercial and industrial quality printing," said Josh Grasby, R&D engineer at Lean Machine.
To take advantage of the limited-time financing solutions for the Markforged X7 and Metal X industrial 3D printers, contact ACCESS Manufacturing Systems directly at: (603)890-5488 Ext. 1.
Additional Financing Terms:
*ACCESS Markforged Metal X Bundle: $137,490.00; Includes Printer, Wash, Sinter Units plus Success Plans & Material Starter Kit
*ACCESS Markforged X7 Bundle: $76,000.00; Includes Industrial Printer, Success Plans & Material Starter Kit.
*Each offer may have specific terms and conditions. Contact ACCESS Manufacturing Systems, Inc. for more information.
*Valid on transactions PO Issued by December 31, 2020 and funded by January 15, 2021.
*Leasing is provided by Canon Financial Services, Inc. ("CFS"), a wholly owned subsidiary of Canon U.S.A., Inc.
*All lease transactions are subject to credit approval and acceptance of all required lease documentation by CFS.
About ACCESS:
ACCESS Manufacturing Systems, Inc. is the largest CAMWorks® reseller in the world. For more than 30 years, ACCESS has delivered best-in-class manufacturing software and accessories, along with unsurpassed industry expertise, to thousands of companies across the nation. Our extensive industry knowledge has allowed our customers to enhance their machining operations by reducing setup time, doubling machine capacity, and improving overall quality. To gain ACCESS to the most qualified team of CAM experts in the industry, please visit accessmfgsys.com, or connect with us on LinkedIn, Facebook, and YouTube.
Featured Product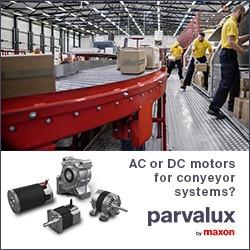 British-made Parvalux geared motors are used in a huge range of industrial applications in almost 80 countries. We manufacture conveyor belt motors, automatic shutter motors, packaging motors and much more. When you need reliable operation, you can trust Parvalux to safely power your application.