A new and complex application, a unique challenge to push the boundaries of what is possible, from the small satellite form factor to the technology used to make it - This is Discovery 1a, the first 1P PocketQube pico-sat flight-ready entirely manufactured using Laser Sintering process and Carbon fiber reinforced composite material Windform XT 2.0. It has been engineered by Mini-Cubes, and manufactured by CRP USA .
Recently Joseph Latrell, CEO of Mini-Cubes, LLC and his team started a project based on the engineering of a new 1P PocketQube flight-ready, named Discovery. The aim of the project is the creation of a constellation of PocketQube satellites for monitoring a specific Earth's resource, water.

Latrell turned to CRP USA for the manufacture of the entire satellite frame via Laser Sintering process using one material from the Windform® TOP-LINE family of composite materials for Laser Sintering, the Carbon fiber reinforced Windform® XT 2.0, created by Italy-based CRP Technology.
The main challenges were related to the small dimension of the satellite and to the material - since it was the first time that an entire satellite would be built from a Carbon-composite material.
Joe Latrell comments, "Discovery is a PocketQube satellite. These spacecraft are amongst the smallest with 50mm x 50mm x 50mm internal volume. Our particular satellite is a demonstration of what can be done for remote sensing of Earth's resources on that scale. The challenge with something so small is to fit the electronics, camera, and radio system into it.
The assignment was tough - the Windform® parts in the Discovery would be mission critical.
As Joe Latrell clarifies, "This was the first time an entire satellite would be manufactured from a material like Windform® XT 2.0. Performance is everything. If any one of the parts fail, it would result in complete failure of the spacecraft."
CRP USA manufactured for Mini-Cubes three 1P PocketQubes functional prototypes: two for testing and one for flight.
"Joe's team brings a unique challenge as they are packing a lot in a small package. Our team was able to use our experience with Windform® to help move the project forward," stated Stewart Davis, Director of Operations at CRP USA.
Joe Latrell comments, "We have run quite a few tests with many more on the way. So far we have load tested to over 20 Kg. The material has been vibration tested to NASA GEVS-7000 specifications, subjected to a near vacuum to simulate the conditions in Earth orbit, and thermally tested from +50c to -40c. Windform® XT 2.0 has passed every test we threw at it."
He continues, "The next step for us is to test the satellite on orbit. This will be the final validation for our process. The plan is to launch sometime in Q2 2021."
crp-usa.net
windform.com
Featured Product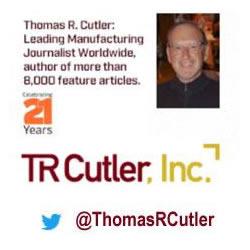 Cutler has authored more than 7000 articles for a wide range of manufacturing periodicals, industrial publications, and business journals including most of the leading monthly trade publications.