Guidance to help organizations achieve better businesses outcomes
The Industrial Internet Consortium® (IIC™) today announced the publication of the Digital Transformation in Industry White Paper. This new white paper focuses on digital transformation in industry and the role innovation processes play in it. It also covers the disruptive technologies that transform the way companies operate, service and maintain equipment. The white paper is designed as a guide that business managers, technology managers and risk, security and safety managers can use to develop business models, leverage key technologies and determine the level of trustworthiness they will need as they begin their digital transformation journey.

"Digital Transformation is the next disruptive wave hitting industry. With this publication, we have described the key technologies that underpin digital transformation and the first steps for any enterprise looking to deploy them," said Jim Morrish, Founding Partner of Transforma Insights and Co-chair of the IIC Digital Transformation Working Group.
Digital transformation initiatives fall into three categories:
New business models - entails an enterprise transforming to offer a substantially changed service to technology users, often associated with new ways of charging for services
Enterprise operations - focuses primarily on increasing the efficiency (or reducing the cost, or risk) of providing products and services to technology users
Customer experience - focuses on changing the customer experience in absence of other changes. These projects tend to center on generating new service revenues or providing new services to customers, particularly field services.
"Digital transformation is a business strategy with the objective to improve business and industrial models and create new ones. This is achieved through the innovative and principled application of digital technologies along with business and organizational realignment," said Bassam Zarkout, Founder of IGnPower and Co-chair of the IIC Digital Transformation Working Group. "Digital transformation is not a project. It is strategy led by a vision and powered by a committed program, which may involve multiple IIoT projects."
The white paper covers a wide range of technologies that can enable digital transformation, such as:
Edge Technology
Hyper Connectivity
Data Security
Artificial Intelligence and Analytics
Digital Twin
Distributed Ledger
Human-Machine Interface
Additive Manufacturing
Data Sharing
IIoT
Autonomous Robotic Systems
Innovation at the IT/OT Boundary
Micropower Generation-Energy Harvesting
Servitization
Technical Platforms for New Business Models and Payment Methods
Trustworthiness of systems is a key element of a digital transformation strategy; a lack of trustworthiness may place an organization at a disadvantage vis-à-vis its competitors and can have dire consequences. This could include human injury or worse, interruption of critical infrastructure, unintended disclosure of sensitive data, destruction of equipment, economic loss and reputational damage. Overinvesting in trustworthiness, can on the other hand increase capital and maintenance costs, reduce flexibility and functionality and introduce cumbersome processes. "Companies embarking on digital transformation must weigh the risks and benefits of both underinvesting or overinvesting in trustworthiness," added Morrish.
The IIC members who wrote the Digital Transformation in Industry White Paper include: Jim Morrish, Transforma Insights; Bassam Zarkout, IGnPower Inc.; Marcellus Buchheit, Wibu-Systems; Alex Ferraro, PwC; Chaisung Lim, Korea Industry 4.0 Association and Shi-Wan Lin, Yo-i Information Technology. The white paper can be found on the IIC website here.
Be sure to register for the free IIC Webinar, "Digital Transformation - The Next Disruptive Wave Across Industries," which runs on September 15, 2020 at 11am EDT, 8am PDT, 1700 CEST.
About Industrial Internet Consortium
The Industrial Internet Consortium is the world's leading organization transforming business and society by accelerating the Industrial Internet of Things (IIoT). The IIC delivers a trustworthy IIoT in which the world's systems and devices are securely connected and controlled to deliver transformational outcomes. The Industrial Internet Consortium is a program of the Object Management Group (OMG). For more information visit http://www.iiconsortium.org.
Note to editors: Industrial Internet Consortium is a registered trademark of OMG. For a listing of all OMG trademarks, visit https://www.omg.org/legal/tm_list.htm. All other trademarks are the property of their respective owners.
Featured Product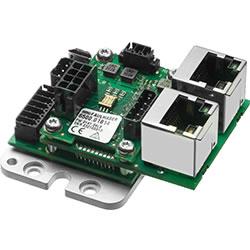 The FAULHABER stepper motor AM3248 raises the bar in terms of performance and dimensions. Offering up to 10,000 rpm, it achieves five times the speed of comparable stepper motors. Combined with a gearhead reduction of 100:1, it supplies a torque of 5 Nm. With a diameter of just 32 mm, it is suited for a wide range of applications in areas such as aerospace, laboratory automation, the semiconductor industry, robotics and 3D printing. Learn more!