Offering high removal efficiencies and easy maintenance
Dexter, MI - Q.E.D. Environmental Systems, Inc., a leading manufacturer of innovative environmental products, highlights the AP4 Ultra AutoPump System Automatic air-powered pumps, which offer exceptional capabilities in the severe pumping conditions found at many landfill and remediation sites. The Ultra builds upon the established AutoPump® System, which has been the industry leader for over 30 years, and comes with QED's unmatched customer service.

Field tests have shown that the AP4 Ultra AutoPump System will last up to 10 times longer between service events than similar alternatives. Several improvements contribute to this longevity. The AP4 Ultra pump uses proprietary non-stick finishes on the float and discharge tube to reduce solids buildup, extending the time between cleaning, and taking 50% less time to clean the pump. All metallic parts are 316-grade Stainless Steel, which boats high corrosion resistance and can withstand attacks of the harshest leachate. This pump features improved valve stem connections, so no fasteners or cotter pins are required. "Cleaning has been an easy task, most times just requiring a water spray," said one user. From another, "We removed residue with some clean water and a swipe of the hand."
QED's AutoPump pumps originated the automatic air-powered pump concept in 1986 and have led the industry ever since. AutoPump Systems are designed specifically to handle difficult well conditions including hydrocarbons, landfill leachates and condensates, solvents, suspended solids, silts, corrosives, high viscosity liquids, high temperatures, and frequent starts and stops.
AutoPump Systems are air-powered positive displacement pumps that require no surface timer-based controllers, bubblers or sensors in the well to operate. Unlike electric pumps, air-powered AutoPump Systems use no high-speed motors, bearings or impellers, so AutoPump Systems don't heat up, seize up, or get ground up. The pump is activated by an internal float in response to the natural well recharge. The superiority of the AutoPump design is based on key strengths: high clearance fluid pathways using air as the motive force, materials of construction matched to site conditions, and a simple yet rugged operating mechanism. Because the AP4 pump fills by gravity and discharges by air displacement, no emulsification is created during its operation. AutoPump Systems operate reliably and safely, eliminating the dangers and costs of electricity at, and in the well. Finally, AutoPump Systems have a built-in control system - they pump when there is liquid present and shut down when the level is drawn down, without the need for any sensors in the well or controls at the surface.
For more information, visit QED online at www.qedenv.com.
###
About Q.E.D. Environmental Systems, Inc.
Q.E.D. Environmental Systems, Inc., a subsidiary of Graco Inc., is a leading manufacturer of innovative environmental pumping systems, landfill products, landfill gas products, and air strippers for use at landfills, mines, oil refineries and other industrial sites, as well as hazardous waste cleanup sites. Our products are used around the world for a wide range of environmental applications, including groundwater sampling, groundwater remediation pumping, landfill leachate and condensate pumping, landfill gas collection and control, landfill and biogas analysis, air stripping and VOC removal, and wireless data acquisition. Based in Dexter, MI, QED serves customers from support centers in Michigan and California. For more information, call 734-995-2547 or contact us at info@qedenv.com.
Featured Product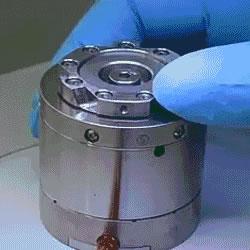 Superior positioning and geometric performance, absolute high-resolution encoders, and a large, ⌀260mm clear aperture makes this air bearing stage a precision instrument for optical alignment, metrology, inspection, calibration, and scanning. Features and advantages include ⌀260mm clear aperture, 77kg load capacity, 0.0015µrad resolution (max.), 500 RPM (max.), flatness/eccentricity of <175/300nm, wobble of < 1 µrad, and direct drive motor. Air-bearings have no rolling or sliding elements and deliver frictionless, non-contact motion, resulting in negligible reversal error, better flatness, and minimal wobble and eccentricity. All these are ideal prerequisites for applications such as inspection and metrology, calibration, and scanning of high-end parts (i.e., infrared and precision optics, turbine blades, shafts and bearings) in industries like aerospace, aircraft, automotive, semiconductors, and photonics.