Led by China Merchants Capital, the investment signals a promising future for ForwardX
BEIJING, CHINA - Apr. 26, 2020 - ForwardX Robotics, a Beijing-based leader in AI- and Robotics-based automation, today announced a new round of Series B+ funding in the amount of $15 million. Led by China Merchants Capital as part of their SINO-BLR Industrial Investment Fund, this new round of investment brings ForwardX's total funding to more than $40 million, including last year's $15 million Series B round.

"We are seeing huge challenges for supply chain leaders across the logistics and manufacturing industries, from growing labor shortages and consumer expectations to a greater need for flexibility," said Nicolas Chee, founder and CEO of ForwardX Robotics. "Our AI-based automation solutions allow our customers to adapt to a rapidly changing landscape and boost their productivity and efficiency three-fold. With the fallout of COVID-19 already here, enterprises will be looking to futureproof their operations and we're going to be there with them as they make the transition."
With the market for AMRs and AGVs forecasted to generate over $10bn by 2023 according to Interact Analysis, ForwardX aims to continue its rapid growth with a recent expansion into the North American market.
"In just over 3 years, ForwardX Robotics has cultivated its own unique competitive advantages and grown to become a leading AMR provider," said Anthony Yang, Managing Director at China Merchants Capital. "Having successfully deployed their solutions in both logistics and manufacturing scenarios, we are very optimistic about ForwardX's future. Moving forward, the SINO-BLR Industrial Investment Fund will help ForwardX Robotics expand the breadth and depth of its applications and continue to enhance its competitive advantage."
Boasting patented computer vision technology and advanced fleet management capabilities, ForwardX's automation platform provides customers in the logistics and manufacturing industries with flexible, high-efficiency solutions to address their unique challenges. So far, customers are already seeing near-100% accuracy with doubled and tripled levels of productivity and operational cost savings of up to 50%.
"Most of the automation equipment in the industry is used to replace manual labor in repetitive and simple processes. However, in the future, we believe collaborative robots will increasingly participate in complex production processes," said Felix Yang, Accelerated Digitalization Lead, Greater China at SF DHL China, a ForwardX customer and the largest third-party logistics provider in the world. "While improving production efficiency, ForwardX's collaborative solutions help us respond flexibly to a changing industry and bring us closer to industry needs."
The company will use the Series B+ funding to continue its growth through further product development, international expansion, and increased production and commercial deployment of its solutions.
"We're truly delighted to be working with the SINO-BLR Industrial Investment Fund. Their belief in the power of technology and the future of industry aligns closely with our vision," added Chee. "This new development solidifies our mission to empower businesses around the world to reach their true potential."
About ForwardX Robotics
ForwardX Robotics is a global technology leader in the fields of AI and Robotics, possessing over 160 patents pending and a team of over 180, including 120 engineers of which 10 hold PhDs. With team members hailing from top universities and leading companies, ForwardX is comprised of the world's top computer vision scientists and robotics experts as shown by its award-winning work, such as 2 1st-Place Prizes at TRECVID and 1st Place Prize for IEEE's VOT-RT. For more information, visit forwardx.com.
About SINO-BLR Industrial Investment Fund
SINO-BLR Industrial Investment Fund, L.P., established in April 2017, has a fund size of USD$585 million. Its investment focuses on Industry 4.0, Fine Chemicals, Health, Advanced Manufacturing, and TMT. Sponsored by State-owned Assets Supervision and Administration Commission of the State Council (SASAC) and initiated by China Merchants Group, SINO-BLR Industrial Investment Fund, L.P. is to implement One Belt One Road initiative. The fund was established in April 2017 with the fund size of USD$585 million. The fund mainly targets those companies who will enter China-Belarus Industrial Park (Great Stone) in the following sectors: Industry 4.0, Fine Chemicals, HealthCare, Advanced Manufacturing, and TMT.
About SF Express
SF was established in Shunde, Guangdong in 1993. Since its establishment, SF is committed to continuously improving its service quality and infrastructure, vigorously developing and introducing new IT technologies and equipment to achieve automatic operations and has built up a diversified express service business unit organization and service networks covers China and all over the world, to support information collection, market development, logistics and distribution system. For further information, please head to SF Express' Facebook or LinkedIn.
About DHL
DHL is the leading global brand in the logistics industry. Our DHL family of divisions offer an unrivalled portfolio of logistics services ranging from national and international parcel delivery, e-commerce shipping and fulfillment solutions, international express, road, air and ocean transport to industrial supply chain management. With about 380,000 employees in more than 220 countries and territories worldwide, DHL connects people and businesses securely and reliably, enabling global trade flows. With specialized solutions for growth markets and industries including technology, life sciences and healthcare, energy, automotive and retail, a proven commitment to corporate responsibility and an unrivalled presence in developing markets, DHL is decisively positioned as "The logistics company for the world". DHL is part of Deutsche Post DHL Group. The Group generated revenues of more than 61 billion euros in 2018. For more information, visit www.dhl.com.
Featured Product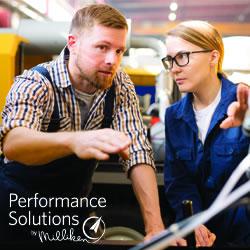 Performance Solutions by Milliken is a dedicated consulting and training group that helps guide businesses toward success. From supply chain, to operations and safety, we're dedicated to developing sustainable results for our clients through the implementation of a holistic operating system. We believe engaging all associates in the process will systematically transform your company to create efficiency, uncover hidden capacity, and generate long-term gains. Are you ready to reinvent your operations and transform your organization? Let's get started.