New compact monitor for process design and quality control
MONROVIA, CA - AMADA MIYACHI AMERICA Inc., a leading manufacturer of resistance welding, laser welding, marking, cutting, and micromachining equipment and systems, announces the new MM-L300A Laser Weld Monitor. The high-resolution, compact MM-L300A is designed to detect production errors such as gaps between parts, missing parts, over-penetration, incorrect focus, and cover gas absence, providing operators feedback on laser weld quality. The compact, lightweight unit supports laser welding technologies for spot or seam welds.

This high-accuracy monitor is ideal for process development and quality control applications of laser welding. The MM-L300A determines weld success by detecting and recording a thermal signal from the area of laser interaction and provides an output waveform around which limits (max/min or envelope) can be set. Once the limits are set, the unit compares a new weld waveform in real time to identify good or bad weld. Providing high temporal resolution—down to 1 microsecond—the MM-L300A with the SU-N300A dedicated thermal sensor enables precision monitoring of both CW and pulsed lasers.
The MM-L300A features easy-to-use software for simple sensor configuration, waveform envelope limit set-up, and real-time or saved waveform analysis on Windows® PCs. Plus, with machine-selectable setup schedules, the unit can monitor different welding conditions. For process design flexibility, this approximately 7 lb (3 kg) system reduces set-up space when integrated into a production line, and the sensor mounts either on the optical axis of the laser or in an off-axis position.
For more information, visit the AMADA MIYACHI AMERICA website at http://www.amadamiyachi.com.
About AMADA MIYACHI AMERICA
Since 1948, AMADA MIYACHI AMERICA, Inc. has worked to achieve one goal: to solve customer's manufacturing challenges. Knowing there is no one solution that fits all, the company strives to provide customers with innovative and reliable manufacturing technology solutions in an effort to be their single source provider. Amada Miyachi America manufactures equipment and systems for resistance welding, laser welding, laser marking, laser cutting, hermetic sealing and hot bar reflow soldering and bonding. The company serves a wide range of markets including medical devices, battery, aerospace, automotive and electronic components. Amada Miyachi America is an ISO9001 certified company. Contact Amada Miyachi America at info@amadamiyachi.com. Learn more about the company's products and services at www.amadamiyachi.com.
Featured Product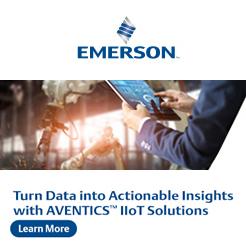 When OEMs and manufacturers need reliable pneumatics for industrial automation applications, they look to the extensive AVENTICS portfolio of cylinders, valves, air preparation and pressure regulators, engineered in Germany. With a compact design and low-maintenance technology to actuate machinery, AVENTICS pneumatics can be trusted to deliver steadfast and long-lasting operation even in the most demanding applications and environments.