See the GEN3SYS XT Pro insert catering to the structural steel industry. Engineered to extend tool life and withstand the heat produced while drilling in structural steel beams and plates.
Chicago, IL- Allied Machine & Engineering, a leading manufacturer of holemaking and finishing tooling systems will display their newest GEN3SYS XT Pro high-penetration insert designed specifically for structural steel applications at FABTECH in booth #A3491, November 11th - 14th, 2019. With a proprietary blend of substrate and multilayer AM420 coating, the insert is composed to withstand the extreme heat produced while drilling in structural steel beams or plates in high production facilities. Allied's XT Pro structural steel insert is designed to run most effectively in our GEN3SYS XT structural steel holders, improving both chip formation and tool life while reducing vibrations to create a higher quality hole.

While Allied's entire XT Pro product line thrives in high-penetration drilling applications, this unique combination of carbide grade, geometry, and high-temperature coating is designed to run at or beyond current O.E.M. rates in structural steel applications. The insert's simplified setup and extended tool life reduces changeover and increases throughput. Their upgraded carbide insert has been completely redesigned to improve throughput and cut operational costs by extending tool life and increasing penetration rates. To preview the GEN3SYS XT Pro structural steel insert in action, watch this brief demo here. For more information about Allied's GEN3SYS XT Pro insert created for structural steel drilling applications, please call 330.343.4283 or visit www.alliedmachine.com/XTPROST.
Featured Product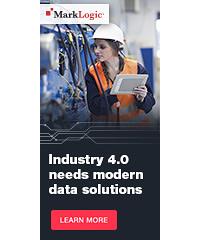 Use Data to Deliver Efficiency, Reduce Risk, and Create Better Products. Disruptive technologies and market changes are transforming the manufacturing industry, requiring a new focus on optimizing use of data and information. It all adds up to a new industrial revolution called Industry 4.0. Organizations who want to realize the potential of this revolution need to "Industrialize their data," making it a core asset to deliver better products and customer service, navigate complex business environments, and transform for the future. MarkLogic customers are delivering on this vision for data with a proven architectural pattern called the Operational Data Hub that simplifies the integration of data along the digital thread to power operational and analytic use cases across the enterprise.