Allied Machine highlights a case study featuring Wohlhaupter boring systems designed to machine high-quality energy components --- quicker and quieter.
Dover, OH (July 12, 2019) - Allied Machine & Engineering, a global manufacturer of holemaking and finishing cutting tools, offers more precision and peace on the shop floor with Wohlhaupter modular boring systems for manufacturers of field components for the oil/gas industry. Machining parts for this rugged energy sector can include variances in workpiece materials, long cross holes and muscling through difficult applications with precision. To reduce chatter and improve hole quality in tough boring applications, Allied recommends their Wohlhaupter boring systems with NOVITECH vibration dampening modules.

The Wohlhaupter 320 boring head with NOVITECH provides productivity, surface quality, and process reliability in applications that may involve significant material variances or long overhangs greater than 6:1. Mounted inside the patent-pending NOVITECH system, the viscoelastically mounted damper modules reduce vibrations when boring diameters ranging from 1.97" - 8.07" (50mm - 205mm), up to 10xD. By combining Wohlhaupter boring tools with the NOVITECH ("no vibration technology") module, the inserts and the machine center's spindle achieve longer life. The NOVITECH modules are compatible with any machine spindle and feature Wohlhaupter's MVS connection too, making it simple to use with existing Wohlhaupter components.
Recently, a Wohlhaupter NOVITECH boring system provided significant productivity improvements, surface quality, and time savings for A to Z Machine Company, Inc., a CNC machine shop in Appleton, Wisconsin. A to Z specializes in a wide variety of custom parts including complex components and assemblies for the oil/gas industry and they'd been contracted to manufacture high-pressure, multifunction pumps. Each cast-iron part was to be bored with three holes, each with a 12" depth and a 22" reach. Previous tooling had been running at a slow 0.47 IPM resulting in a lengthy cycle time of 84 minutes per part for this feature, so they reached out to Allied Machine's field engineer, Mark Fowler based in the area.
Together Fowler and A to Z's lead manufacturing engineer, Marc Manteufel worked to find the best tools and techniques to reduce both vibrations and cycle time while maintaining the required finish. Fowler and Manteufel selected the Wohlhaupter 320 boring head with NOVITECH vibration damper for the job. With the right tooling and expert teamwork, the cycle time for this feature was reduced by 74 minutes while still achieving the required finish.
For more information on solutions for challenging boring applications, please visit Allied Machine at www.alliedmachine.com or call 330-343-4283.
Featured Product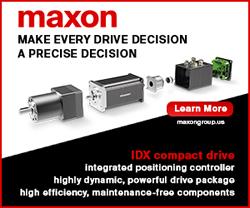 maxon motor launches new high-speed motors that are configurable online. The new ECX brushless motors are quiet and feature very high efficiency. The ECX motors are available with diameters of 8, 16 and 19 mm achieving speeds of up to 120,000 rpm. They run very smoothly and are highly efficient. With maxon motor's online configurator, it is easy to put together a customized DC motor to include gearhead, encoder and controller. The customized motors are ready to ship in 11 days!