Leading High-Performance Seals, Fiber Optic and Electrical Connectors to Be Showcased
Kulpsville, PA - Greene Tweed, a leading global manufacturer of high-performance seals, thermoplastics, composites, and engineered components, announces it will showcase its dry-run-resistant wear part solution and capabilities in large seal manufacturing at the Turbomachinery & Pumps Symposium 2019, held September 10th - 12th at the George R. Brown Convention Center in Houston, TX at Booth 3136.

Greene Tweed will be highlighting the WR®650, a next-generation PFA composite with superior dry run characteristics designed to replace metallic wear parts in centrifugal pumps and any other applications where wear resistance is required. Also on display will be the AR®HT and AR®1, thermoplastic materials developed for specific applications.
Greene Tweed's WR®650 delivers high chemical compatibility, excellent wear characteristics, and operability from subzero to 500°F (260°C). The advanced material with 3D carbon-fiber architecture, provides a coefficient of thermal expansion comparable to steel over a wide range of temperatures, offering a constant running clearance, no interference, and no efficiency drop.
The WR®650 solution may be applied as stationary wear parts in vertical, horizontal, single, and multistage centrifugal pumps. Greene Tweed products can be used to improve the reliability and efficiency in refineries, chemical plants, power plants, pipelines, and water treatment plants. WR®650 is available in a broad range of stock shapes, ranging from ID1" to OD12."
Greene Tweed will also display its capabilities in large seal manufacturing including the G-T® Ring, a unique seal configuration for centrifugal compressors that enhances resistance to rapid gas decompression (RGD) at higher pressure compared to traditional elastomeric O-rings.
For more information about WR®650, Greene Tweed's wear part solutions and the G-T® Ring, visit www.gtweed.com.
###
About Greene Tweed
Greene Tweed is a leading global manufacturer of high-performance thermoplastics, composites, seals, and engineered components. Combining more than 150 years of technical expertise and commercial knowledge in a variety of markets, Greene Tweed collaborates with customers to develop engineered solutions that meet challenging performance requirements and reduce total cost of ownership.
Greene Tweed products are sold and distributed worldwide. For additional information, call +1.215.256.9521, or visit our website at http://www.gtweed.com.
Featured Product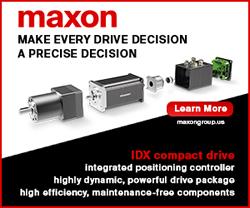 maxon motor launches new high-speed motors that are configurable online. The new ECX brushless motors are quiet and feature very high efficiency. The ECX motors are available with diameters of 8, 16 and 19 mm achieving speeds of up to 120,000 rpm. They run very smoothly and are highly efficient. With maxon motor's online configurator, it is easy to put together a customized DC motor to include gearhead, encoder and controller. The customized motors are ready to ship in 11 days!