Liquid filtration system removes contamination from virgin and reclaimed chocolate
At Russell Finex we strongly believe in product machine testing. This video demonstrates how our Russell Eco Filter® removes oversize contamination from virgin and reclaimed chocolate. With its versatile range the Russell Eco Filter® improves product quality by removing oversize contamination from 10 micron or above. The filter does not require filter bags or cartridges, which offers significant reductions in wasted product over traditional filters. The in-line design allows easy installation into existing pipework, as the jacketed pipework maintains the product temperature. The installation of a Russell Filter Management System™ continuously monitors the filtration process enabling the filter to run efficiently, reducing operator involvement. The Russell Filter Management System™ offers a time-controlled valve operation, which automatically discharges oversize after a pre-determined time.

Full video can be accessed at: https://www.russellfinex.com/en/demonstration-videos/filtering-chocolate/
The test and research facilities enable customers to trial Russell Finex machines with their product before purchase, giving them total peace of mind that the equipment they choose is the right one for them.
For 85 years Russell Finex has manufactured and supplied filters, sieves and separators to improve product quality, enhance productivity, safeguard worker health, and ensure liquids and powders are contamination-free. Throughout the world, Russell Finex serves a variety of industries with applications including food, pharmaceuticals, chemicals, adhesives, plastisols, paint, coatings, metal powders and ceramics. Contact Russell Finex today to find out how its separation equipment can optimize your new or existing processing line at www.russellfinex.com
Featured Product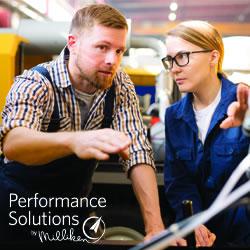 Performance Solutions by Milliken is a dedicated consulting and training group that helps guide businesses toward success. From supply chain, to operations and safety, we're dedicated to developing sustainable results for our clients through the implementation of a holistic operating system. We believe engaging all associates in the process will systematically transform your company to create efficiency, uncover hidden capacity, and generate long-term gains. Are you ready to reinvent your operations and transform your organization? Let's get started.