Plex Systems' 18th annual technology conference brings together global manufacturers to discuss the Industrial Internet of Things, cloud ERP, and MES May 13-16
Plex Systems, the leader in manufacturing cloud ERP and MES, today announced that the PowerPlex conference, which draws more than 1,000 manufacturing technology professionals annually, has kicked off at Cobo Center in Detroit. The event addresses evolving trends in the industry including the Industry 4.0, smart factories, and mobility. PowerPlex also shares the latest innovations in cloud ERP, MES, Industrial Internet of Things (IIoT), wearables and the supply chain.

"The Plex ecosystem is defining the future of connected manufacturing, and the peer-to-peer exchange, thought leadership, and networking at PowerPlex are unmatched for manufacturing technology professionals," said Bill Berutti, CEO of Plex Systems. "Manufacturers running their operations on the Plex Manufacturing Cloud are some of the most technologically advanced in the world, and we are proud to be part of their success."
Walk-in registrations are available May 13-15 in the atrium at Cobo Center.
PowerPlex Showcases Technology Leadership
PowerPlex will include 110 sessions delivered by nearly 120 presenters. Presenters will include Plex customers, Plex product leaders, and other industry experts. PowerPlex customers sharing best practices from the main stage and throughout track sessions will include global automotive leader American Axle; Toyotetsu, Toyota's largest metal stamping supplier; and Shank's Extracts, Inc. a private label flavoring and extracts company, among many others.
"Attending PowerPlex allows me to stay on top of manufacturing trends, take advantage of the latest Plex innovations, connect with industry peers, and bring those key learnings back to my team," said Eric Reno, ERP manager at ParkOhio - Assembly Components Group, a global tier-1 automotive supplier. "I've attended PowerPlex every year since 2001 due to the value it provides to our manufacturing operations."
This year's guest keynote is inventor and entrepreneur Dean Kamen, founder of FIRST® and president of DEKA Research & Development Corporation. Kamen will share key learnings from his career and FIRST accomplishments to help manufacturers address the widening skills gap from 1:30-2:20 p.m. on Tuesday, May 14.
The Women Leaders in Manufacturing and Technology Luncheon and Panel, scheduled for 12:30-1:30 p.m. on Wednesday, May 15 will share engagement and diverse workplace insights. Participants will include industry thought leaders AJ Jorgenson, AVP, strategic engagement at The Manufacturing Institute (the non-profit affiliate of the National Association of Manufacturers) and Rebecca Bray, member of the advisory board at the Michigan Council of Women in Technology and chief sales officer of technology professional staffing organization Epitec; Plex customers Ann Lismore, business analyst I of Accuride Corporate and Jennifer McIntosh, ERP manager of Gill Industries; and Plex leaders.
Manufacturing Leaders Choose Plex
The Plex customer community includes more than 600 manufacturers running 2,300 factories worldwide, representing industries such as automotive, fabricated metals, food and beverage, industrial machinery, plastics and rubber, and aerospace.
About Plex Systems
Plex Systems® delivers industry-leading ERP and manufacturing automation to more than 600 companies across process and discrete industries. Plex pioneered cloud solutions for the shop floor, connecting suppliers, machines, people, systems, and customers with capabilities that are easy to configure, deliver continuous innovation and reduce IT costs. With insight that starts on the production line, the Plex Manufacturing Cloud® helps companies see and understand every aspect of their business ecosystems, enabling them to lead in an ever-changing market. Learn more at www.plex.com.
Featured Product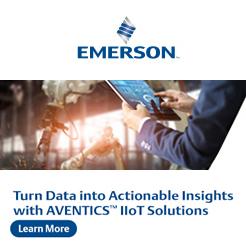 When OEMs and manufacturers need reliable pneumatics for industrial automation applications, they look to the extensive AVENTICS portfolio of cylinders, valves, air preparation and pressure regulators, engineered in Germany. With a compact design and low-maintenance technology to actuate machinery, AVENTICS pneumatics can be trusted to deliver steadfast and long-lasting operation even in the most demanding applications and environments.