A vast network gives companies access to additional resources to better create innovative automation solutions
MILWAUKEE, May 13, 2019 — The industrial automation industry has become more complex and dynamic. Companies must work with multiple suppliers and partners to create the most innovative automation solutions. To support this collaborative process, Rockwell Automation has added five new companies to its PartnerNetwork program, and two existing members expanded to serve the EMEA region.

The PartnerNetwork program allows companies to face automation challenges together by providing access to an expansive network of leading suppliers, distributors, system integrators and OEMs.
Solution Partner Program
Wunderlich-Malec Engineering has joined the Solution Partner program. The company is a full-service provider of professional engineering, design, integration and sustaining services. Solution Partners are qualified system integrators that use Rockwell Automation technologies and relationships to help companies reduce project risk.
Encompass Partner Program
The Encompass Partner program welcomed four new members and saw regional expansion with two existing members. Through the Encompass third-party product referencing program, customers can quickly locate products that solve challenges.
Following are the new members of the Encompass Partner program:
• Armstrong International (Americas) offers an advanced wireless monitoring technology that efficiently monitors and evaluates steam trap operation.
• Fluidmesh Networks (Americas) produces wireless products that enable outdoor and large-scale applications of the Internet of Things, including smart cities, urban video-surveillance, connected vehicles and trains, and industrial automation.
• Eagle Technology (Americas) is making factories smarter with Proteus CMMS Software, which provides an easy and effective way to streamline operations. This leads to better management, a reduction in downtime and significant cost savings.
• Prime Technologies (Americas) specializes in developing quality management software with a specific focus on calibration and maintenance.
Two existing Encompass Partner members have expanded to the EMEA region:
• Codian Robotics (Americas and EMEA) develops pick and place robots for industrial applications that are ideal for rapid top-loading processes.
• Owl Cyber Defense (Americas and EMEA) specializes in data diode technology that has been successfully deployed in over 2,000 solutions across government, military and critical infrastructure networks.
About the Rockwell Automation PartnerNetwork Program
The Rockwell Automation PartnerNetwork program offers global manufacturers access to a collaborative network of companies mutually focused on developing, implementing and supporting best-in-breed solutions to achieve plant-wide optimization, improve machine performance and meet sustainability objectives.
About Rockwell Automation
Rockwell Automation Inc. (NYSE: ROK), the world's largest company dedicated to industrial automation and information, makes its customers more productive and the world more sustainable. Headquartered in Milwaukee, Wis., Rockwell Automation employs approximately 23,000 people serving customers in more than 80 countries.
Featured Product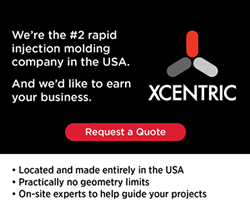 Xcentric plastic injection molding services focus on rapid delivery of prototype and low-volume production components. Our production processes are streamlined such that we typically deliver first articles in less than 15 business days, and for simple expedited projects in as little as five days. At the other end of the spectrum, we frequently produce components for customers needing a few hundred thousand components as a bridge to higher productivity molds. Over time, we have earned a reputation for being able to handle highly complex projects, overmolding, custom insert molding, and other complicated projects much faster than with traditional tooling, often helping our clients get to market weeks, if not months earlier. At Xcentric, every mold is designed and fabricated and all production is run in one of our two Michigan-based facilities.