This Year Marks EPC's 50th Anniversary
SAGLE, Idaho: This year is Encoder Product Company's 50th anniversary. What began in one engineer's garage in 1969, with the world's first cube encoder, is now a world-wide enterprise including locations in the UK, China, and India, with their main location in Sagle, Idaho - where a 100,000 square-foot, vertically-integrated facility houses the corporate headquarters and main factory.

Today, Encoder Products Company (EPC) produces an array of motion feedback solutions, with many more new motion feedback solutions in development. EPC's line of encoders includes:
• The innovative line of Tru-Trac™ linear measurement solutions, all-in-one solutions with encoder, measuring wheel, and spring-loaded torsion arm
• Thru-bore motor-mount incremental encoders
• Heavy-duty shaft encoders
• Magnetic encoder modules
• Programmable encoders
• Absolute encoders with SSI, CANopen, and EtherCAT® communications
"At Encoder Products we have always focused on being responsive to our customers' needs," says John Meschko, EPC's CEO and Chief Engineer. "We focus on priorities that are important to our customers to provide innovative products and excellent service that gives them the best overall value for their money. We work hard to meet or exceed their expectations. Looking forward, we are excited to continue the company's traditions with new products and innovations in the world of motion feedback devices."
About Encoder Products Company:
Encoder Products Company (EPC) is a leading designer and world-wide manufacturer of motion sensing devices. EPC began operations in 1969, producing a line of custom encoders from a small, home-based shop. Today, EPC is still a privately-held encoder manufacturer in North America, based out of a 100,000 square foot, vertically-integrated facility in Idaho, where they produce a complete line of incremental and absolute rotary encoders and accessories.
For more information visit encoder.com/
Featured Product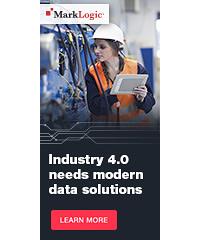 Use Data to Deliver Efficiency, Reduce Risk, and Create Better Products. Disruptive technologies and market changes are transforming the manufacturing industry, requiring a new focus on optimizing use of data and information. It all adds up to a new industrial revolution called Industry 4.0. Organizations who want to realize the potential of this revolution need to "Industrialize their data," making it a core asset to deliver better products and customer service, navigate complex business environments, and transform for the future. MarkLogic customers are delivering on this vision for data with a proven architectural pattern called the Operational Data Hub that simplifies the integration of data along the digital thread to power operational and analytic use cases across the enterprise.