Allied Machine & Engineering highlights three drilling systems engineered specifically for structural steel applications at FABTECH Mexico in Monterrey in booth #1417. The line-up includes the Structural Steel GEN3SYS XT Pro drill, the Structural Steel T-A drill, and the Revolution drill with adjustable diameter. Allied's cutting tool solutions deliver the lowest cost per hole in a wide range of drilling, reaming, threading, boring, and burnishing applications.
MONTERREY, MEXICO (April 15, 2019) - Allied Machine & Engineering presents their newest GEN3SYS XT Pro high-penetration insert designed specifically for beam and plate production at FABTECH, May 7th - 9th, in booth #1417. In addition to this material-specific innovation, Allied highlights the Revolution drill and Structural Steel T-A drill, both of which are engineered to excel in structural steel applications.

With an exclusive combination of substrate and multilayer coating, the newest XT Pro insert is engineered to withstand the heat generated while drilling in structural steel beams or plates in high production facilities. The unique composition of carbide grade, geometry, and high-temp coating are designed to run at or beyond current O.E.M. rates while offering extended tool life.
A frequent issue in stacked plate applications occurs when the insert spins along with the exit disc produced from the first plate of steel. This can crush the insert and result in catastrophic tool failure. Allied's stacked plate Revolution drill has an adjustable diameter and is designed to drill through plates with up to 0.125" gap, eliminating the problematic exit disc. The Revolution drill doesn't require a pilot hole, reducing set-up time, and the adjustable diameter allows for reduced tooling inventory.
The Structural Steel T-A drill produces optimal results when drilling holes in I-beams and H-beams. For example, a recent customer manufacturing over 100,000 tons of steel
beams, bars, and ductwork increased their penetration rate from 1.05 IPM to 3.52 IPM using the Original T-A structural steel drill, reducing their cycle time by 70%.
For more information about Allied's newest GEN3SYS XT Pro insert or other holemaking and finishing solutions, visit our website.
Featured Product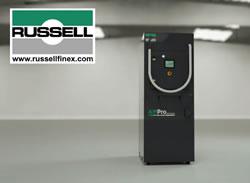 The Russell AMPro Sieve Station™ guarantees the quality of your additive manufacturing (AM) powder, and has been designed to provide optimum sieving efficiency, ensuring your powder is ready for use or reuse as and when you require it. With a simple one-button operation and mobile design, this automated check screener ensures your powder at every stage of the process is qualified for use quickly and safely. The flexibility of the Russell AMPro Sieve Station™ means you can use the system for numerous powder handling tasks - being a modular design ensures the machine can be configured to meet your exact requirements.