KeraCel is developing its ceramic solid-state batteries using proprietary additive manufacturing 3D printing technology resulting in a unique monolithic structure. This unique structure allows for greatly increasing the battery energy density and producing safer and longer lasting batteries.
Keracel has been able to 3D print very thin ceramic layers that are essential to building high energy density batteries. Minimizing ceramic layers reduces the amount of inactive material overhead which impacts achievable energy density. In addition, the solid ceramic electrolyte thickness directly impacts the battery's internal resistance and thus limits charge and discharge rates.

"Printing minimum geometry structures requires multi-disciplinary expertise and IP in materials science, electro-chemistry, and 3D printed additive manufacturing. We are proud of our team's progress with yet another major step forward", said Robert Bagheri, KeraCel's CEO. "Achieving high performance batteries requires careful optimization of the material used in the manufacturing process".
Keracel's target energy density for its 1st generation battery is 1200Whr/lt, which is approximately twice that of today's lithium ion batteries. Recent achievements in printing thin layers will allow achieving 1000Whr/lt energy density. Keracel expects further improvements in the layer thickness with refinements in their manufacturing process technology.
About KeraCel
KeraCel is bringing to market a next-generation advanced solid-state battery design and manufacturing method that will allow production of cells with ceramic-based electrolytes and lithium metal anodes to achieve energy densities 2-3 times greater, or at a cost of less than 50%, and improved safety when compared to Lithium Ion cells today for the same energy level. This 3D print manufacturing process will allow virtually any shape or size of cell to be built for a multitude of applications without changing equipment or tooling, directly under software control.
Featured Product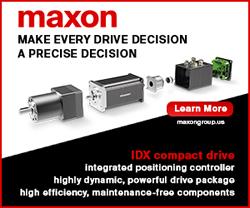 maxon motor launches new high-speed motors that are configurable online. The new ECX brushless motors are quiet and feature very high efficiency. The ECX motors are available with diameters of 8, 16 and 19 mm achieving speeds of up to 120,000 rpm. They run very smoothly and are highly efficient. With maxon motor's online configurator, it is easy to put together a customized DC motor to include gearhead, encoder and controller. The customized motors are ready to ship in 11 days!