Allied Machine exhibits a material-specific GEN3SYS XT Pro drilling line, a new vibration damper module for boring applications with a long overhang, and the 4TEX indexable carbide insert drill which excels in high-temp alloys and stainless steels.
Portland, OR (April 4, 2019) - Allied Machine & Engineering highlights three of their holemaking and finishing solutions at the Northwest Machine Tool Expo in the Oregon Convention Center. See the 4TEX indexable carbide insert drill, the material-specific GEN3SYS XT Pro line of drilling products, and their new NOVITECH vibration damper module for boring applications in booth #911.

The 4TEX drill excels in challenging applications that include interrupted cuts, angled surface entry, or in drilling high-temperature alloys and stainless steels. The drill is engineered to create optimal chip formation for efficient evacuation in holemaking processes. According to Allied, 4TEX outperforms other standard drills by delivering higher penetration rates in light duty machines. The indexable insert drill is ideal for making shallow 2xD, 3xD, and 4xD holes in the 0.472" - 1.850" (12mm - 47mm) range.
The unique design of 4TEX increases core strength, improving hole size and straightness. The flute space of the internal cutting edge side, where chips often cluster, is 1.6 times larger than typical indexable carbide (IC) drills. Dual twisted coolant outlets improve penetration rates by enhancing coolant flow and generating superior chip evacuation. The inserts are available in wear resistant geometry/coating combinations for all ISO materials including steel, stainless steel, high-temperature alloys, non-ferrous, and iron.
NOVITECH (no vibration technology) increases productivity, surface quality, and process reliability in boring operations while extending the insert and machine center's spindle life. Mounted inside the patent-pending NOVITECH system, the visco-elastically mounted damper modules reduce vibrations during the machining of diameters ranging from 1.97" - 8.07" (50mm - 205mm), up to 10xD. The NOVITECH intermediate modules feature Wohlhaupter's MultiBore system (MVS), making it simple to use with existing Wohlhaupter components and is compatible with any machine spindle.
GEN3SYS XT Pro high penetration drilling products feature material-specific inserts making tool selection easy. They are offered for steels (class P), cast irons (class K), and non-ferrous materials (class N). The drill inserts come in diameters ranging from 0.4331" (11mm) to 1.378" (11mm), and are available in 0.004" (0.1mm) increments. The inserts designed specifically for steel and cast iron have new AM400 series coatings, which provides increased wear resistance and tool life. Inserts for non-ferrous materials are coated with titanium nitride (TiN).
Holders for the GEN3SYS XT Pro line are available in depth-to-diameter ratios of 3xD, 5xD, 7xD, and 10xD. The holders feature an enhanced flute design that improves chip evacuation and an updated coolant configuration that increases flow and directs additional coolant to the cutting zone.
Allied Machine differentiates itself from other cutting tool manufacturers by focusing solely on tools for machining holes. For more information on 4TEX or other holemaking solutions, stop by booth #911 at the Northwest Tool Expo or visit www.alliedmachine.com.
Featured Product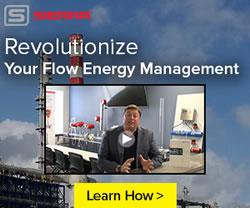 Sierra Instruments announces the launch of its new flow energy solution for managing and optimizing flow measurement for industrial facilities of all sizes. It features Sierra's QuadraTherm 640i/780i thermal flow meters, their InnovaMass 240i/241i vortex flow meters, and their new InnovaSonic 207i ultrasonic flow meter. Designed, built, and calibrated in the USA by Sierra, the Big-3TM share the same revolutionary Raptor firmware and many of the same software apps. They are a complete flow energy solution for flows like compressed air, natural gas, steam, and hot and chilled water. Together, they set a new standard in ease-of-purchase, performance, accuracy, reliability, and ease of use.