Horizontal material handling solutions comprised of tow tractors, carts and trailers are replacing fork lifts for material deliveries throughout facilities.
Minneapolis, April 2, 2019 - Taylor-Dunn, part of Polaris Industries (NYSE:PII), is providing a safer, more efficient horizontal material handling alternative for manufacturing and warehouse customers. This tug system solution allows a single operator to deliver an increased amount of goods to multiple areas within the manufacturing or warehouse facility in one run using Taylor-Dunn tow tractors or stockchasers coupled with Jtec industrial carts versus traditional forklift methods. An example of one tug system will be on display in Polaris' Taylor-Dunn booth #S5247 at ProMat 2019 held April 8-11 at Chicago's McCormick Place.

"Warehouse and manufacturing operations are changing. As commerce surges worldwide, these industries must find creative ways to manage inventory and productivity while rethinking workflows to stay ahead of increasing demand and safety requirements," said Keith Simon, vice president and general manager, Polaris Commercial North America. "The Taylor-Dunn tug system helps improve safety, increases labor efficiencies and can reduce operating expenses up to 50 percent."
Horizontal material handling solutions comprised of tow tractors, carts and trailers are replacing fork lifts for material deliveries throughout facilities. Forklifts play a role in material handling - storing pallets in vertical racking systems for example - but in many instances are used for tasks where better alternatives exist. As lean methods are implemented in most facilities, less lineside space is available for parts, and smaller aisles increase vehicle congestion and safety risk.
"We were pleased to add Polaris' Taylor Dunn to our Jtec Authorized Reseller team in 2018," said Jon Peterson, Jtec co-owner and president. "Our patented CarryMore Mother/Daughter Tugger Cart Systems, along with our CarryLite towable carts and CarryMax Heavy-Duty Trailers are perfectly paired with their tuggers up front. Our products are built to last and designed with improved efficiencies and safety in mind. You'll see some of our products in both of our booths at ProMat. Polaris and Taylor-Dunn have recognized the value of representing our Jtec product lines with their excellent tugging solutions. Their larger tuggers can even pull our massive CarryMax trailers, capable of holding loads up to 30,000 lbs.," he added.
As compared to forklifts, the Taylor-Dunn material handling solution can help reduce safety risk, improve labor efficiency and productivity, and save companies millions of dollars in operating expenses in as short as 3-5 years. Taylor-Dunn tug systems are highly customizable, and custom-built solutions can be designed to haul any size or shape good to the production line. These material handling products are built to standards that ensure long-lasting durability and reliability. Jtec's trailers are also "true tracking" which means the cargo trailers follow the preceding vehicle's tire path, increasing efficiency of flow and reducing the risk of warehouse damage.
Jtec Industries - booth #S1684 - is a vertically-integrated OEM in Central Illinois which designs and manufactures specialized industrial cart systems to move materials throughout facilities world-wide. Jtec's award-winning solutions, including the CarryMore® Tugger Cart System and CarryMatic® No-Touch Materials Movement System, improve safety and efficiencies and lower operational costs for materials handling operations.
Taylor-Dunn, a Polaris Industries business, has been manufacturing and distributing gas and electric industrial vehicles since 1949. Taylor-Dunn products are used worldwide in many applications, are environmentally friendly and have an established reputation for dependability and durability. At just pennies a day, these operator friendly products are easy to use and maintain.
Editor Note: For high-resolution images, video and data sheets, please contact Katie Paulson, katie@kp-publicrelations.com.
Customers can contact Alex Taylor, alex.taylor@polaris.com or visit www.polaris.com/materialhandling for more information or to request a quote.
About Polaris Commercial
Backed by more than 60 years of Polaris Industries innovation, Polaris Commercial offers a comprehensive line of durable, versatile and customizable work vehicle solutions for transporting people and hauling equipment in urban environments and industry applications. GEM®, PRO XD, Taylor-Dunn® and RANGER® vehicles are engineered with the customer's needs in mind to be dependable, safe, sustainable and to increase productivity. The dedicated and specialized employees of Polaris Commercial provide end customers with simple purchasing processes based on individual needs, dedicated customer support and a worldwide network of dealers for localized service.
Polaris Commercial | Polaris.com/Commercial
About Polaris
Polaris Industries Inc. (NYSE: PII) is a global powersports leader that has been fueling the passion of riders, workers and outdoor enthusiasts for more than 60 years. With annual 2018 sales of $6.1 billion, Polaris' innovative, high-quality product line-up includes the RANGER®, RZR® and Polaris GENERAL™ side-by-side off-road vehicles; Sportsman® all-terrain off-road vehicles; Indian Motorcycle® mid-size and heavyweight motorcycles; Slingshot® moto-roadsters; snowmobiles; and pontoon, deck and cruiser boats. Polaris enhances the riding experience with parts, garments and accessories, along with a growing aftermarket portfolio, including Transamerican Auto Parts. Polaris' presence in adjacent markets globally includes military and commercial off-road vehicles, quadricycles, and electric vehicles. Proudly headquartered in Minnesota, Polaris serves more than 100 countries across the globe. Visit www.polaris.com for more information.
Featured Product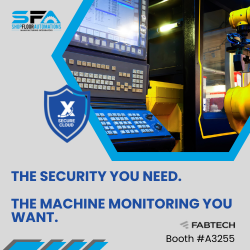 Disparate machines, each with a unique control system and communication protocol with varying ages, can create challenges for manufacturers driving continuous improvement initiatives. There is often limited visibility to make data-driven decisions that can impact every aspect of a manufacturing organization. The Scytec DataXchange machine monitoring solution resolves these issues by capturing real-time, Industrial Internet of Things (IIoT) data from a variety of equipment - from CNCs and PLCs, to robots and manual machinery - through universal machine connections. Leveraging automated data collection, DataXchange exposes and synthesizes equipment data to give your teams full transparency on the shop floor to transform your business into a smart factory.