New Indexable Insert Drill Designed to Excel in Interrupted Cuts, High Temp Alloys, and Stainless Steels.
West Springfield, MA - Allied Machine & Engineering, a leading manufacturer of holemaking and finishing solutions, showcase their new 4TEX indexable carbide insert drilling system in booth #5453 at EASTEC. Engineered to create optimal chip formation for efficient evacuation in holemaking processes, the drill outperforms other standard drills by delivering higher penetration rates in light duty machines. 4TEX excels in challenging applications that include interrupted cuts or drilling high-temperature alloys and stainless steels. The indexable insert drill is ideal for making shallow 2xD, 3xD, and 4xD holes in the 0.472" - 1.850" (12mm - 47mm) range.

The 4TEX drill's unique design increases core strength, improving hole size and straightness. The flute space of the internal cutting edge side, where chips often cluster, is 1.6 times larger than typical IC drills. Dual twisted coolant outlets improve penetration rates by enhancing coolant flow and generating superior chip evacuation.
The insert geometries are optimized for wear resistance and are available in geometry/coating combinations for all ISO materials including steel, stainless steel, high-temperature alloys, non-ferrous, and iron. The distinctive insert shape improves surface finish, hole quality, and penetration rates while eliminating issues from chips winding around the tool. The drills are stocked in both imperial and metric shanks with standard fractional diameters, as well as every ½ mm diameter up to 26mm and every 1 mm up to 47 mm assuring fast delivery.
Allied Machine differentiates itself from other cutting tool manufacturers by focusing solely on holemaking and finishing. For more information on 4TEX or other holemaking solutions, stop by Allied Machine's booth #5453 at EASTEC or visit www.alliedmachine.com.
Featured Product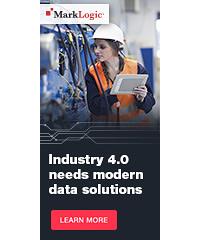 Use Data to Deliver Efficiency, Reduce Risk, and Create Better Products. Disruptive technologies and market changes are transforming the manufacturing industry, requiring a new focus on optimizing use of data and information. It all adds up to a new industrial revolution called Industry 4.0. Organizations who want to realize the potential of this revolution need to "Industrialize their data," making it a core asset to deliver better products and customer service, navigate complex business environments, and transform for the future. MarkLogic customers are delivering on this vision for data with a proven architectural pattern called the Operational Data Hub that simplifies the integration of data along the digital thread to power operational and analytic use cases across the enterprise.