Get ready for a great return event
Reston, Va.; March 7, 2019 — With two weeks until the return of ProFood Tech (March 26-28, 2019; McCormick Place, Chicago), the most comprehensive food and beverage processing show in North America, it's time to start preparing to capitalize on everything offered during this three-day event.

"With processing solutions for nearly every industry vertical, attendees can witness a wide array of the latest technologies under one roof," says Laura Thompson, senior director of expositions, PMMI.
Produced by three of the world's trade show leaders - PACK EXPO, Koelnmesse - organizer of Anuga, and the International Dairy Foods Association (IDFA) - ProFood Tech is unprecedented in its ability to bring the industry together and address the critical issues facing food and beverage processing operators in North America.
"With a truly international approach, ProFood Tech is an opportunity not to be missed and PMMI, Koelnmesse and IDFA are very excited to present the second edition of ProFood Tech," adds Denis Steker, vice president international of Koelnmesse (organizer of Anuga).
Uniting 7,000 processing professionals and more than 400 of the world's top suppliers over 125,000 net square feet of exhibit floor, this show features 25 hours of free, on-floor educational programming, countless networking opportunities and a variety of student activities.
"ProFood Tech offers a full range of food and beverage processing solutions from both large companies that serve several market segments and smaller niche companies focused on specific needs," concludes Neil Moran, IDFA senior vice president of finance, administration and trade show.
Here's what's in store:
The ProFood Tech Knowledge Hub, produced by IDFA, is a free educational program featuring a range of learning experiences led by industry thought leaders, located in three venues on the show floor.
• The Impact Zone will encourage discussions and sharing of experiences among industry colleagues.
• The Innovation Zone will feature breakthrough technologies and formulations to spark ideas and uncover fresh opportunities.
• The Disruption Zone will deliver sessions on how to make the most of disruptive technologies to meet consumer demands.
Networking Opportunities
Opening Day Reception - Gather with peers and network with fellow industry professionals, Tuesday, March 26 from 4:00 to 6:00 p.m.
Packaging & Processing Women's Leadership Network Breakfast - Hear from women leaders in the industry and connect with peers through networking exercises and shared experiences, Wednesday, March 27 from 8:00 to 9:45 a.m.
ProFood World Awards & Reception
• 2018 Sustainability Excellence in Manufacturing Awards - Honors exceptional sustainability achievements within food and beverage manufacturing operations.
• 2019 Manufacturing Innovation Awards - Recognizes outstanding food and beverage processing and packaging innovation projects.
• Awards Reception - Celebrate award recipients and network with leading food and beverage companies in packaging and processing environmental initiatives on Wednesday, March 27 from 4:00 to 5:00 p.m.
The Dairy Bar (Presented by IDFA) - Network with colleagues while sampling delicious dairy products and beverages, 10:00 a.m. to 4:00 p.m. daily.
Additional highlights:
Student Opportunities - programs to get students excited about careers in processing:
• CareerLink Live - Connects PMMI members and consumer packaged goods (CPG) companies with students and veterans pursuing careers in processing.
• Future Innovators Robotics Showcase - Showcases local high school robotics teams' design, engineering and troubleshooting skills on the show floor.
• Education Pavilion - Gathers students and representatives from schools who have programs related to food and beverage processing.
Cold Pressure Council Annual Conference - Addresses all things High Pressure Processing.
The Dairy Pavilion - Presented by IDFA, presents the latest dairy processing technologies.
International Pavilions - Provides a global perspective with pavilions from China, France, India and Taiwan, among others.
With so much to see and learn, now is the time to create a personal agenda for the show using My Show Planner and download the mobile app, sponsored by Dorner Mfg. Corp., from either the Apple Store or Google Play to search exhibitors, products and educational sessions.
There is still time to register for ProFood Tech 2019. Register online at www.profoodtech.com.
About the Producers of ProFood Tech
ProFood Tech is produced in partnership by PMMI, Koelnmesse (organizer of Anuga) and the International Dairy Foods Association (IDFA).
PMMI, The Association for Packaging and Processing Technologies, represents more than 850 North American manufacturers and suppliers of equipment, components and materials as well as providers of related equipment and services to the packaging and processing industry. It works to advance a variety of industries by connecting consumer goods companies with manufacturing solutions through leading trade media, as well as the world-class PACK EXPO portfolio of trade shows - PACK EXPO International, PACK EXPO Las Vegas, Healthcare Packaging EXPO, PACK EXPO East, EXPO PACK México and EXPO PACK Guadalajara.
Koelnmesse GmbH - Global Competence in Food and FoodTec: Koelnmesse is an international leader in organizing food fairs and events regarding food and beverage processing. Trade fairs such as the Anuga, ISM and Anuga FoodTec are established world leaders. Koelnmesse not only organizes food trade fairs in Cologne, Germany, but also in further growth markets around the globe, for example, in Brazil, China, Colombia, India, Italy, Japan, Thailand, the United States and the United Arab Emirates, which have different focuses and contents. These global activities enable us to offer our customers a network of events, which in turn grant access to different markets and thus create a basis for sustainable and stable international business. The events regularly organized by Koelnmesse take place at different intervals and attract more than 53,500 exhibiting companies from 122 countries, as well as approximately 3 million visitors from 221 countries.
The International Dairy Foods Association (IDFA), Washington, D.C., represents the nation's dairy manufacturing and marketing industry, which supports nearly 3 million jobs that generate more than $161 billion in wages and has an overall economic impact of more than $628 billion. IDFA members range from multinational organizations to single-plant companies. Together they represent approximately 90 percent of the milk, cultured products, cheese, ice cream and frozen desserts produced and marketed in the United States and sold throughout the world. The diverse membership includes numerous food retailers, suppliers and companies that offer infant formula
Learn more about ProFood Tech by visiting profoodtech.com.
Featured Product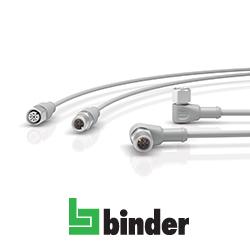 binder USA, LP, has expanded the M12 product family with the addition of the M12 A-Coded Connector, which is now certified for both Ecolab and FDA Code of Federal Regulations (CFR) Title 21 standards. The M12 A-Coded connectors are extraordinarily durable and IP69K-rated, ideal for harsh-duty and washdown applications in the food and beverage, pharmaceutical, and chemical industries. Available in 3, 4, 5, 8, and 12 contacts, the high quality stainless steel locking rings (V4A) and gold contact plating can also withstand UV exposure and shock and vibration.