S.S. White Technologies, the worldwide leader in the design and manufacture of flexible shafts, highlights their bespoke flexible shaft solutions for medical applications. Flexible
S.S. White Technologies Highlights Custom Flexible Shafts for Medical Applications

Flexible shaft manufacturer provides custom design expertise
St. Petersburg, FL - S.S. White Technologies, the worldwide leader in the design and manufacture of flexible shafts, highlights their bespoke flexible shaft solutions for medical applications. Flexible shafts transmit rotary motion much like a solid shaft, but can be curved over, under, and around areas in ways a solid shaft cannot. Flexible shafts are used in a variety of medical applications, such as in handheld flexible screwdrivers and flexible drills used in surgery, in laparoscopic and endoscopic surgical equipment, in robotic assisted surgery technology such as the Da Vinci surgical system, and in breast biopsy. S.S. White provides customers with custom flexible shaft solutions designed for specific applications, all backed by S.S. White's wealth of experience and expertise.
Applications using S.S. White Flexible Shafts include;
• AAA - Abdominal Aortic Aneurysm Repair
• Minuscular Tear Repair System
• Heart Valve Repair
• Hand Held Screw Driver
• Contrast Dye Injection
• Breast Biopsy
• Transesophageal echocardiogram
• Bariatric Surgery
• Lasik Surgery
Flexible shafts are commonly used in surgical applications, especially in surgical power tools and tools used in minimally invasive procedures. These shafts are typically manufactured from stainless steel or phosphor bronze and in many cases are made to be highly flexible, even more so than flexible shafts used in other industries.
S.S. White provides flexible shaft assemblies as part of a custom solution. Every procedure in which a flexible shaft is used is different, and S.S. White not only manufactures the flexible shafts, but also provides the technical expertise to create bespoke solutions. The medical industry requires precise, highly engineered products for a highly regulated environment - which S.S. White delivers consistently.
###
About S.S. White Technologies
S.S. White Technologies is a world leader in the design, engineering, manufacturing and testing of a variety of flexible shaft products for aerospace, medical, industrial and automotive markets. The majority of commercial and military aircraft platforms in the air today contain at least one S.S. White Technologies flexible rotary shaft, and more than one-half of US manufactured cars and second tier global automotive suppliers rely on S.S. White flexible rotary shafts. The company currently has design, engineering and manufacturing facilities in the United States and the United Kingdom, and manufacturing facilities in India. For more information, visit www.sswhite.net/
Featured Product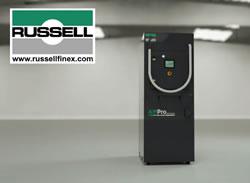 The Russell AMPro Sieve Station™ guarantees the quality of your additive manufacturing (AM) powder, and has been designed to provide optimum sieving efficiency, ensuring your powder is ready for use or reuse as and when you require it. With a simple one-button operation and mobile design, this automated check screener ensures your powder at every stage of the process is qualified for use quickly and safely. The flexibility of the Russell AMPro Sieve Station™ means you can use the system for numerous powder handling tasks - being a modular design ensures the machine can be configured to meet your exact requirements.