Stäubli's sensitive environment robots are designed to meet stringent safety standards
Stäubli (booth #3717) will showcase sensitive environment robots designed specifically for the healthcare and life science industries at INTERPHEX, the International Pharmaceutical Expo, April 2-4 at the Javits Center in New York City.

From handling and packaging IV bags, syringes and vials to the aseptic dispensing of insulators, Stäubli's Stericlean and sensitive environment robots are trusted with delicate tasks throughout the pharmaceutical industry.
"Precise, dependable, safe and sterile operations are essential for implementing any automated solutions, but especially in a healthcare environment," said Sebastien Schmitt, Robotics Division Manager, North America, Stäubli. "Stäubli builds and designs its robots to meet the high standards required by pharmaceutical manufacturers without sacrificing the performance our clients have come to expect across all industries."
At INTERPHEX, Stäubli will showcase the following innovative robotic applications:
• TX2 60L Stericlean will show vial handling in aseptic environment
• TX60L with vision system demonstrating medical assembly
INTERPHEX brings together the latest innovations and technologies in the pharmaceutical and biotechnology industry, from development through commercialization.
Visit booth #3717 to see how Stäubli's sensitive environment robots can present new possibilities for automation in the healthcare and life science sectors, or visit for more information.
To set up a booth visit, contact:
Jan Abel
Stäubli Robotics (North America)
Senior Marketing-Communications Manager
Phone: (864)486-5430
j.abel@staubli.com
About Stäubli North America
Stäubli North America has over 200 employees supporting Connectors, Robotics and Textiles customers. The company's North American headquarters is located in Duncan, S.C., and the sales force is strategically placed on the West Coast, Canada, Mexico and elsewhere thoughtout the continent.
Stäubli is a leading manufacturer of textile machinery, quick release couplings and robotics systems. With a workforce of over 5,000 employees Stäubli is present in 29 countries supported by a comprehensive distribution network in 50 countries worldwide. Visit www.staubli.us for more information on the company and products.
Featured Product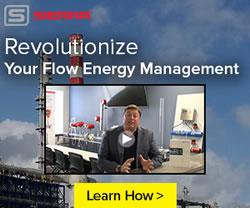 Sierra Instruments announces the launch of its new flow energy solution for managing and optimizing flow measurement for industrial facilities of all sizes. It features Sierra's QuadraTherm 640i/780i thermal flow meters, their InnovaMass 240i/241i vortex flow meters, and their new InnovaSonic 207i ultrasonic flow meter. Designed, built, and calibrated in the USA by Sierra, the Big-3TM share the same revolutionary Raptor firmware and many of the same software apps. They are a complete flow energy solution for flows like compressed air, natural gas, steam, and hot and chilled water. Together, they set a new standard in ease-of-purchase, performance, accuracy, reliability, and ease of use.