The workshop immediately precedes the biannual meeting of ASTM International's committee on additive manufacturing technologies (F42).
W. CONSHOHOCKEN, Pa., Jan. 16, 2019 — The ASTM International Additive Manufacturing Center of Excellence will host its first workshop on Monday, March 25 at the Auburn Marriott Opelika Resort & Spa at Grand National in Alabama, USA. The workshop immediately precedes the biannual meeting of ASTM International's committee on additive manufacturing technologies (F42).

"There is a critical demand from industry and others involved in additive manufacturing technologies to understand the entire value chain as well as how standardization is helping ensure quality and reliability," said Dr. Nima Shamsaei, Auburn University. "This workshop helps meet that need."
Specifically, the workshop will focus on key steps in the value chain, including:
• Feedstock,
• Design,
• Materials and processing,
• Post-processing,
• Non-destructive evaluation and inspection,
• Qualification and structural integrity, and
• Standardization and certification
The 12 interactive sessions - led by key experts - will help address the growing needs of key industries such as aerospace, defense, medical, and auto. Discussions will also address some of the gaps in standardization and workforce development related to additive manufacturing technologies.
"The workshop emphasizes the role and value of standardized practices in accelerating product qualification and certification for additive manufacturing," said Dr. Mohsen Seifi, ASTM International's director of global additive manufacturing programs. "Notably, participants will learn about the latest standards development activities as well as the center's efforts to support targeted R&D projects that help address those gaps."
This event is designed by center of excellence partners including: Auburn University, manufacturing technology innovator EWI, NASA, the UK-based Manufacturing Technology Centre, the National Institute for Aviation Research, and the National Additive Manufacturing Innovation Cluster (Singapore). Several organizations such as America Makes, Innovate UK, and CECIMO (Europe) have provided support for this event. The workshop is also sponsored by LPW/Carpenter Additive, EOS, and SLM Solutions.
To register for the workshop and for more details, visit http://www.amcoe.org/workshop. On March 1, registration increases from $300 ($250 for ASTM International members) to $400 ($350 for members). For more information, contact event chairs Shamsaei (shamsaei@auburn.edu) and Seifi (mseifi@astm.org).
About ASTM International
Committed to serving global societal needs, ASTM International positively impacts public health and safety, consumer confidence, and overall quality of life. We integrate consensus standards - developed with our international membership of volunteer technical experts - and innovate services to improve lives… Helping our world work better.
Featured Product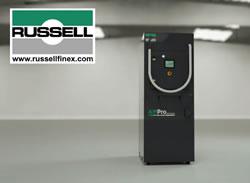 The Russell AMPro Sieve Station™ guarantees the quality of your additive manufacturing (AM) powder, and has been designed to provide optimum sieving efficiency, ensuring your powder is ready for use or reuse as and when you require it. With a simple one-button operation and mobile design, this automated check screener ensures your powder at every stage of the process is qualified for use quickly and safely. The flexibility of the Russell AMPro Sieve Station™ means you can use the system for numerous powder handling tasks - being a modular design ensures the machine can be configured to meet your exact requirements.