Frost & Sullivan has awarded ZYFRA as the Entrepreneurial Company of the Year in the AI-based Machine Data Monitoring Solution for Process Industries.
Founded in 2017 and led by the reputed Finnish entrepreneur Pekka Viljakainen, ZYFRA has demonstrated passionate persistence in its efforts to enable customers in Europe to achieve their IIoT transformation goals in Industry 4.0 environments through its launch of cutting-edge IoT and IIoT solutions, such as MDCplus and AI-enabled Digital Advisor.

"Its flagship machine data collection system MDCplus enables customers hailing from diverse industry verticals to remotely track operational performance of assets and processes in Industry 4.0 environments. In contrast to its top competitors solution, which only shows superficial data such as vibration and temperature, ZYFRAs MDCplus offers an additional section that lists measurable parameters, such as spindle rotation rate, for a specific work shift time frame. Furthermore, ZYFRA has been able to revolutionize the customer experience in terms of customizability of modules, a feature its competitors lack in their products," Frost & Sullivan Report says .
The company currently operates in Finland, China, Russia, Bulgaria, and India, and its platform connected over 7,000 CNC machines across the countries. By the end of 2018 more than 200 production facilities are equipped with its products. Zyfra has also announced its plans to enter markets of Indonesia, Mongolia, South Africa, Vietnam and Chile as early as 2019-2021. ZYFRA has reached $30 mln revenue in first year, facilitating industrial manufacturers in-house and abroad with AI and IoT based solutions as well as autonomous vehicles.
Recent Index by TNW (The Next Web) ranked Finn-co ZYFRA Oy 11-th among the TOP-50 2018s world aquisition deals in IoT. The 10th position took Google with its aquisition of Lytro, the Dutch camera maker. ZYFRA announced it started its acquisition of VIST Group, one of the industrial leaders in development and implementation of information technologies for digital mining earlier in autumn this year . The M&A deal accounts for $30mln. Through acquisition (the one will be finished by 2020) of these assets the company is planning to occupy a significant share of global market and to compete with Caterpillar, Komatsu and other majors in certain aspects.
"Our view is that theres a tremendous opportunity for disruption in Industrial IoT and applied AI space, although it is still a nascent market to a larger extent - said Ilkka Saarinen, Director of Nordic markets development at ZYFRA Group. If you look at Gartner latest Magic Quadrant for IIoT platforms, you can quickly arrive at the conclusion that the market still lacks a clear leader, which leaves the doors wide open for the up and coming challengers like ourselves"
The goal of smart factories of the future is to unify the IIoT platforms to collaborate multiple hardware and software systems and eliminate defect rates. While hesitancy remains on the part of process industries to embrace the value proposition of analytics, vendors of data monitoring and analytics solutions are equally hesitant due to not fully understanding the software services business model. Services have not been particularly attractive in a business sense and are typically an add-on to a product sale. However, the impact of this challenge is expected to decline over the next five years as companies increase their investments into data monitoring and analytics solutions and understand more about the software-as-a-service (SaaS) subscription model. In this evolving landscape, vendors able to offer a solution that effectively records the data and uses advanced machine learning technology to analyze the real-time performance of industrial assets, predict failures, improve asset lifespan, reduce maintenance costs, and increase production output will find themselves best positioned to stay competitive in the dynamic European market.
"Smart manufacturing (the term refers to IoT and AI) is projected to grow noticeably in the 3 to 5 years. Recent surveys showed 92% of senior manufacturing executives believe that "Smart Factory" digital technologies such as artificial intelligence will allow them to improve their degrees of productivity and empower their staff to work more intelligently. Some even account for smart manufacturing market volume to increase to over $320 billion by 2020," said Igor Bogachev, ZYFRA Group CEO.
For reference:
Evolutionary development of industry from mechanization to industrialization, and then from automation to Industry 4.0 is characterized by the massive use of various sensors for the collection and exchange of information integrated with intelligent systems.
The Industrial Internet of Things (IIoT) is a computer network consisting of elements of industrial equipment, scientific tools, equipped with technologies of interaction with each other and the external environment. The goal of the Internet of Things is to change the technological and business processes in such a way as to increase their efficiency and significantly reduce the need for human participation in making routine decisions related to the management of objects in such networks. In a general sense, IIoT can be equated to fully automate digital production.
Frost & Sullivan, the Growth Partnership Company, enables clients to accelerate growth and achieve best-in-class positions in growth, innovation and leadership. The company's Growth Partnership Service provides the CEO and the CEO's Growth Team with disciplined research and best practice models to drive the generation, evaluation and implementation of powerful growth strategies. Frost & Sullivan leverages more than 50 years of experience in partnering with Global 1000 companies, emerging businesses, and the investment community from 45 offices on six continents. To join our Growth Partnership, please visit http://www.frost.com.
Featured Product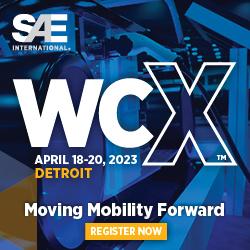 As the global leader in connecting and educating engineers, SAE International® brings you WCX 2020 World Congress Experience, the only place for the latest in consumer metrics, regulatory standards and technical sessions covering the entire vehicle, from bumper to bumper and beyond.