Leslie Controls Awarded Contract for Virginia-Class Submarine Valves
TAMPA, FL -Leslie Controls, a CIRCOR International brand, and a worldwide manufacturer of valves for the power generation, industrial, marine and oil and gas markets for over a century, announces that it has been awarded a $5.65 million-dollar contract to provide valves to the United States Navy for ten Block V Virginia-class submarines.

With authorization to begin material acquisition immediately, the schedule calls for delivering two shipsets worth of equipment each year for the next five years. Leslie Controls early procurement strategies for material consolidation will aid the customer in realizing economies and savings for the program.
"Leslie Controls relationship with the U.S. Navy started with shipbuilding programs prior to World War I," said Dean Lyons, Navy Senior Program Manager. "Our people have always felt honored by the responsibility entrusted to us by the U.S. Navy and were pleased to add this contract to the legacy. CIRCORs recent acquisition of Portland Valve and Warren Pumps only increases our capabilities and we expect it will strengthen our relationship even further."
About Leslie Controls and CIRCOR International, Inc.
Leslie Controls is a CIRCOR International brand. CIRCOR International, Inc. designs, manufactures and markets differentiated technology products and sub-systems for markets including oil & gas, industrial, aerospace & defense and commercial marine. CIRCOR has a diversified flow and motion control product portfolio with recognized, market-leading brands that fulfill its customers mission critical needs. The companys strategy is to grow organically and through complementary acquisitions; simplify CIRCORs operations; achieve world class operational excellence; and attract and retain top talent. For more information, visit the companys website at www.circor.com.
###
Featured Product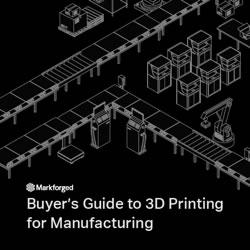 3D printing has become a powerful force in today's manufacturing industry from prototyping to tooling and fixtures to custom, end-use parts. Many businesses struggle to find the right solutions to fit their needs and provide ROI. Selecting the right platform to prevent manufacturing roadblocks is vital to optimizing your manufacturing line productivity. Download the all new buyer's guide to help you evaluate the benefits of 3D printing and dispel misconceptions, understand the pros/cons of various 3D printing processes and materials, and assess the key considerations in selecting a 3D printer.