-ExOne is the innovator in metal binder jetting technology with 3D printing units installed in more than twenty countries globally -Scaling the fine powder capability of INNOVENT+™ to a larger production build envelope -Orders are now being accepted; systems to be delivered starting late 2019
-The ExOne Company (Nasdaq: XONE) ("ExOne"), a global provider of three-dimensional ("3D") printing machines and 3D printed and other products, materials and services to industrial customers, today announced the release of its newest system, the X1 25PRO™. Combining the fine metal injection molding ("MIM") powder capability of ExOne's INNOVENT+™ machine with production volume capability, the new X1 25PRO™ is positioned to address the needs of MIM, powder metallurgy, and manufacturing customers seeking a larger platform solution for producing reliable parts in a production environment.

The new X1 25PRO™ offers customers the ability to produce fine quality parts from a variety of materials including: 316L, 304 L, and 17-4PH stainless steels; Inconel 718® and 625; M2 and H11 tool steels; cobalt chrome; copper; tungsten carbide cobalt; and many others.
Rick Lucas, ExOne's Chief Technology Officer, noted, "We are pleased to bring the new X1 25PRO™ to market to satisfy the needs of industry for high quality, functional, production-volume parts. ExOne has a pioneering legacy of being on the cutting edge of introducing materials and processes using binder jetting. We currently have machines installed in customer facilities in more than twenty countries around the globe and we are proud to bring innovations like the X1 25PRO™ to realization. Our X1 25PRO™ is the first of two machines that we are introducing by the end of the first half of 2019, utilizing our state-of-the-art patent pending MIM powder processing machine technologies. We believe these new production machines will be the most flexible and highest performing binder jetting machines in the market."
The X1 25PRO™ allows customers of ExOne's INNOVENT+™ platform to scale up to a mid-size production platform using the same powder metallurgy standard powders they are currently using. The platform will focus on the MIM, powder metallurgy, and mechanical engineering market applications.
ExOne will begin taking orders for the X1 25PRO™ system immediately. Stop by ExOne's booth at the Formnext additive manufacturing trade fair in Frankfurt, Germany from 13 November to 16 November to learn more about the system details. Customers will have the opportunity to see the X1 25 PRO™ on display at the RAPID + TCT 3D event in Detroit on May 21-23, 2019.
Visit ExOne's website to learn more: https://www.exone.com/.
About ExOne
ExOne is a global provider of 3D printing machines and 3D printed and other products, materials and services to industrial customers. ExOne's business primarily consists of manufacturing and selling 3D printing machines and printing products to specification for its customers using its installed base of 3D printing machines. ExOne's machines serve direct and indirect applications. Direct printing produces a component; indirect printing makes a tool to produce a component. ExOne offers pre-production collaboration and print products for customers through its network of ExOne Adoption Centers ("EACs") and Production Service Centers ("PSCs"). ExOne also supplies the associated materials, including consumables and replacement parts, and other services, including training and technical support that is necessary for purchasers of its 3D printing machines to print products. The Company believes that its ability to print in a variety of industrial materials, as well as its industry-leading volumetric output (as measured by build box size and printing speed) uniquely position ExOne to serve the needs of industrial customers.
Featured Product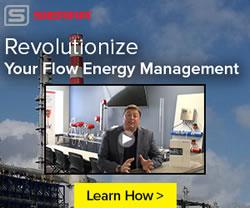 Sierra Instruments announces the launch of its new flow energy solution for managing and optimizing flow measurement for industrial facilities of all sizes. It features Sierra's QuadraTherm 640i/780i thermal flow meters, their InnovaMass 240i/241i vortex flow meters, and their new InnovaSonic 207i ultrasonic flow meter. Designed, built, and calibrated in the USA by Sierra, the Big-3TM share the same revolutionary Raptor firmware and many of the same software apps. They are a complete flow energy solution for flows like compressed air, natural gas, steam, and hot and chilled water. Together, they set a new standard in ease-of-purchase, performance, accuracy, reliability, and ease of use.