XponentialWorks portfolio companies are breaking industry speed and cost barriers
Frankfurt, Germany, November 12, 2018 - XponentialWorks, a venture, advisory and product development firm, announced today that it plans to demonstrate how its leading portfolio companies are breaking the barriers of generative design and additive manufacturing speed and performance at Formnext 2018. XponentialWorks specializes in seeding, scaling and transforming companies that are powered by exponential technologies such as artificial intelligence, digital manufacturing, 3D printing and robotics.

"We are proud to exhibit at Formnext the game-changing generative and additive manufacturing products and capabilities that our innovative Industry 4.0 partners have to offer," said Avi Reichental, Founder, Chairman and CEO, XponentialWorks.
XponentialWorks plans to demonstrate at Formnext the power of its unique ecosystem, comprised of startups and corporate clients, including Nexa3D, NXT Factory, and ParaMatters, whose technology will all be showcased on a concept vehicle by XponentialWorks partner Techniplas. All of these firms technologies will be on display at the XponentialWorks booth, B01 - Hall 3 in the Frankfurt Messe. Media kit available here. See XponentialWorks in action here.
"Each and every one of our portfolio companies are committed to compressing the time and cost of a critical portion of the design to manufacturing cycle," said Reichental. "By colliding and funding young upstarts with industry veterans with access to mission-critical verticals like automotive, aerospace, dental and footwear, we serve as a catalyst and force-multiplier to deliver cost-effective, production-ready additive solutions."
XponentialWorks portfolio companies will showcase the following products and services:
• Nexa3D plans to exhibit how its LSPc technology is breaking the speed and size barrier for digital plastics with its NXE 400 ultra-fast Stereolithography production printer, the fastest, largest and most affordable production-grade 3D printer on the market. Printing continuously at up to 16 liters of build volume in a single build at a print speed of up to 1z cm per minute, the NXE 400 compresses printing time from hours to minutes. The NXE 400 comes with a wide range of production-grade, castable and dental materials. To learn more about Nexa3Ds new products, visit www.nexa3d.com.
• NXT Factory plans to demonstrate how its QLS technology is delivering a high-speed polyamide additive molding solution, a disruptive and scalable alternative to traditional injection molding with full Industry 4.0 capabilities. The company plans to unveil at Formnext two new printers featuring production speeds up to four times faster than traditional systems. The QLS 250 comes with a removable build chamber for independent cool down and the QLS 350 is equipped with an autonomously guided build chamber for fully automated 24/7 operation. To learn more about NXT Factorys new products, visit www.nxtfactory.com.
• ParaMatters delivers the most powerful generative design software for traditional and additive manufacturing that works autonomously by leveraging proprietary machine learning and topology optimization. The company plans to launch its next generation CogniCAD solution; a cloud-based generative design platform, which compiles lightweight structures and meta-materials (lattices) on demand, while automating and shortening the design-to-manufacturing process. ParaMatters CogniCAD solution has a unique mesostructural design that achieves biomimicry by blending topology optimization with optimal porosity. To learn more about ParaMatters new products, visit www.paramatters.com.
• Techniplas plans to unveil a unique concept vehicle that is packed with its most advanced lightweighting and additive manufacturing capabilities, including a tailing suspension arm boasting a 48 percent weight reduction, several tire rim designs, and seat backs. Additionally, the company will exhibit a first of its kind cognitively-lit sunroof that is programmable and designed to demonstrate how car surfaces are transitioning from core functionality into expanded human-to-machine interfaces. The concept vehicle exhibits the expanding capabilities of the companys Techniplas Prime proprietary e-manufacturing platform. To learn more about Techniplass new capabilities, visit www.techniplas.com.
"Much remains to be done to decisively move generative and additive technologies from the prototype shop onto the production floor, and no single company can go it alone," said Reichental. "XponentialWorks is the collider, curator and force multiplier that is building the required partnerships, alliances and ecosystems to completely transform how we design and make products."
About XponentialWorks
XponentialWorks is a venture investment, corporate advisory and product development company, specializing in artificial intelligence, digital manufacturing, 3D printing, robotics, and the digital transformation of traditional businesses. As a curator of leaders in Industry 4.0, the firm has built a unique ecosystem that unites the forces of early-stage companies with the experience and deep market knowledge of mature companies. XponentialWorks mentors and invests in the growth and success of promising early stage companies and acts as an edge organization for the benefit of larger, mid-market companies undertaking digital transformation. Learn more at https://xponentialworks.com/.
About Nexa3D
Nexa3D makes ultrafast industrial-grade stereolithography 3D printers that are affordable to professionals and businesses of all sizes. Its printers are powered by proprietary Lubricant Sublayer Photo-curing (LSPc) technology and patented structured light matrix capable of reaching top speeds of 1Z cm per minute, drastically reducing 3D printing cycles of precision parts from hours to minutes. Learn more at www.nexa3d.com.
About NXT Factory
NXT Factory is a leading additive manufacturing provider specializing in the development and commercialization of disruptive digital molding production systems. The companys proprietary Quantum Laser Sintering™ technology delivers manufacturing systems that are designed to exceed the productivity and performance of traditional injection molding systems. Learn more at www.nxtfactory.com.
About ParaMatters
ParaMatters is a team of world-class experts in topology optimization, computational mechanics, CAD and artificial intelligence. Technology developed by ParaMatters is revolutionizing design-to-manufacturing processes as we know them today. No longer constrained by traditional CAD/CAE/CAM tools, designers can now create innovative products and services that were previously impossible. Combined with state-of-the-art additive manufacturing, this new technology will enable a new wave of innovation in various industry sectors, from patient-specific implants to highly efficient aircraft parts. Learn more at www.paramatters.com.
About Techniplas
Techniplas is a leading global design and manufacturing provider of engineered products and services that are shaping the future of mobility. The companys 2,000 associates around the world are passionate about making the connected world. By continuously expanding the reach of data-enabled cognitive technologies into all its operations, Techniplas delivers personalized, performance-enhanced and sustainable mobility. Learn more at www.techniplas.com.
Featured Product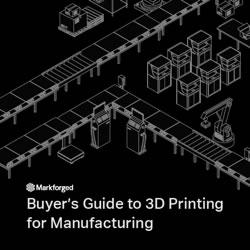 3D printing has become a powerful force in today's manufacturing industry from prototyping to tooling and fixtures to custom, end-use parts. Many businesses struggle to find the right solutions to fit their needs and provide ROI. Selecting the right platform to prevent manufacturing roadblocks is vital to optimizing your manufacturing line productivity. Download the all new buyer's guide to help you evaluate the benefits of 3D printing and dispel misconceptions, understand the pros/cons of various 3D printing processes and materials, and assess the key considerations in selecting a 3D printer.