Advances in packaging industry have opened opportunities for brands to explore the benefits of center seal pouches in packaging a wide variety of food products.
The food packaging market has seen growth in recent years. The driving factors could be the rise in awareness, customers preference for hygienic good, and the increased demand for innovative, convenient, easy to carry, attractive packaging solutions. Food processing and manufacturing companies have time and again come up with novel techniques to pack food so that it stays fresh and retains its flavour for long. One of the food packaging mechanisms that is gaining traction is vacuum food packaging and with it, center seal pouches and stand-up pouches are becoming popular.

If you have a quick look-through at the food section of any supermarket, youll see that the shelves are lined up with food products that are vacuum-packed in center seal pouches. The glass and plastic packaging are slowly becoming obsolete. Center seal pouches are used to pack a variety of perishable food items such fresh processed meats, poultry and seafood, dried fruit & nuts, dry goods, frozen foods, snacks & spices, protein powder, coffee beans, etc.
A lot of food companies have started using center seal pouch making machines to expand their reach, cater to consumers needs and gain a competitive edge. Here are some of the benefits:
Benefits of center seal pouch making machine in a food manufacturing industry:
1. You dont need to outsource the packaging of your food items.
Outsourcing your packaging could be an expensive alternative and could lead to financial loss. When you outsource, you have no control over the quality of packaging. It is a clever idea to have a center seal pouch making machine in your manufacturing unit. You can save costs and retain quality as you have full control over the entire packaging process.
2. Its a cost-effective solution.
Since you are packaging your own products, you save on the overall cost of the product. Low manufacturing cost will not only benefit the business but also the consumer. You would be able to sell the product to the consumer at a reasonable price.
3. It reduces food wastage.
Center seal pouches keep the food fresh for a longer time, hence the chances of food getting spoiled during transportation are almost negligent.
4. It occupies less space.
The center seal pouch making machine is compact and hence it doesnt occupy much space in your facility.
5. You can customize your food packages.
With the center seal pouch making machine at your disposal, you will be able to come up with innovative ideas and customize the packaging according to your own needs.
6. The pouches are lightweight.
Center seal pouches are lightweight. Lightweight packaging not only offers convenience to the consumers, but it also reduces the carbon footprint by effectively reducing the mass of packages and also trims the costs for the manufacturers.
The Bottom Line
Advances in packaging industry have opened opportunities for brands to explore the benefits of center seal pouches in packaging a wide variety of food products. Today, traditional glass and plastic containers are becoming less prevalent on store shelves, making it all the more crucial to select the right type of plastic packaging. This is a good change and its aligned with consumers demand for sustainable products and manufacturers needs to cut costs.
Author Bio: Mohan Naik oversees the digital marketing for XL plastics, a leading name in the field of plastic converting machinery. On a mission to help entrepreneurs make a high quality choice that delivers value, he efficiently turns even the most technical topics into interesting and engaging content that even a layman can comprehend. He writes to educate his audience and skillfully uses marketing to incite interest even in the most passive of readers. He stays updated with the latest trends and innovations in the industry and is quick to share that with his readers.
Featured Product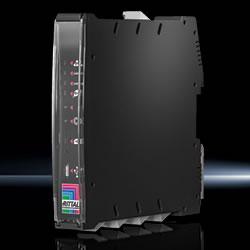 Download the Rittal Fact Book, we'll show you side-by-side product comparisons of Rittal and competitive products, and let you decide. You are an innovator. Your mind runs with "What if?" and the status quo can always be improved. When you find a supplier like Rittal who is forward thinking, you know you've found a partner. A supplier known worldwide for equipment that incorporates cutting edge technology, designed for efficiency, and solves problems other engineers hadn't even considered yet. A company that lives the Industry 4.0 world and puts it into practice in every step of the process.