Due to increasing demand within the aerospace industry for more efficient ways to produce stronger, lighter parts, Beckwood will showcase hot forming, superplastic forming, and sheet hydroforming press capabilities at FABTECH.
Beckwood Press Company, a leading manufacturer of custom hydraulic presses, automation systems, and the Triform line of precision forming equipment, will be showcasing hot forming and superplastic forming technology in addition to sheet hydroforming capabilities at FABTECH® 2018.

Visitors to booth A2053 will meet with hot forming application engineers and learn the benefits of hot forming titanium, how to overcome the barriers of entry into the hot forming market, and how to choose the right machinery specifications for safe, accurate forming. Booth A2053 will also feature fluid cell and deep draw sheet hydroforming demonstrations using a Triform model 610-20-3SC. Ideal for low-volume, high-mix part production, sheet hydroforming presses use a single, unmated tool and a pressurized rubber diaphragm to form parts with smooth, uniform, scratch-free surfaces that typically require no additional finishing.
During the show on Wednesday, November 7, 2018 at 1:30pm in room B316, Beckwood president Jeffrey Debus will lead a panel discussion titled "Feeling Hot, Hot, Hot: Overcoming the Challenges of Hot Forming Titanium to Win New Contracts." During this two-hour learning session, attendees will hear perspectives from the end user, machinery OEM, and material supplier for high temp tooling and gain unique insights into operator safety, part formability, and market viability of this emerging technology. Attendees are encouraged to share their forming challenges with the panel during the extensive Q&A session at the end of the seminar.
"With the increased demand for stronger, lighter aerospace parts, many manufacturers are looking toward new technologies and forming processes," said Jeffrey Debus, President of Beckwood Press Company. "Over the past decade, Beckwood has been at the forefront of this revolution, supplying machinery for nearly every major aerospace supplier in the world."
Visit beckwoodpress.com/fabtech for more information and seminar discounts.
About Beckwood Press Company
Beckwood Press Company is a leading hydraulic press manufacturer, located in St. Louis, MO USA. They offer quality, custom hydraulic presses for virtually every industry and application, including a line of temperature controlled presses for compression molding, composite forming and high-temperature Hot Forming / SPF applications. Beckwood also manufactures the Triform line of sheet hydroforming presses in both fluid cell and deep draw configurations, hydraulic ring expanders, hot joggle presses, and stretch forming machines for both extrusion and sheet / leading edge applications. Get the latest news from Beckwood at beckwoodpress.com/news.
Featured Product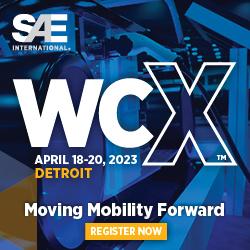 WCX™ World Congress Experience provides an unmatched opportunity to see all the moving parts in today's mobility industry - and the groundbreaking innovations that are shaping the next phase. Powered by SAE International®, the global leader in connecting and educating engineers, this event serves as the only place for the latest technology, consumer metrics, regulatory standards and technical sessions covering the entire vehicle, from hardware to software and beyond. Join your community at North America's largest technical mobility event, and be part of the collaborative problem-solving that drives the future of your industry.