Compact Automation offers innovative motion control products to meet customers precise needs with a manufacturing capability of producing customized products for global conveyor and robotics applications.
Compact Automation, an ITT Inc. (NYSE: ITT) company, will showcase a comprehensive portfolio of custom, high-quality motion control solutions for the packaging industry at the 2018 PACK EXPO International, Oct. 14-17. Compact is also highlighting new innovations including composite cylinders and magnetic grippers that are custom designed to meet the most challenging application requirements in global packaging and industrial automation environments. The company will highlight these technologies at Booth N6333.

Compact Automation offers innovative motion control products to meet customers precise needs with a manufacturing capability of producing customized products for global conveyor and robotics applications. Engineered for the packaging and industrial automation markets, Compact Automations products are powerful, repairable and configurable, offering a high level of performance in a small package. The base platform is fully customizable to specific applications and designed to improve work-holding performance helping manufacturers to achieve gains in equipment uptime, throughput and safety.
"At Compact Automation, we have the expertise to meet the packaging industrys unique and challenging application requirements," said Brooks Hafner, Manager of Application Engineering, Compact Automation. "Our high-quality products are fully customizable and designed to increase performance, decrease total cost of ownership and improve the reliability of the entire application assembly. Were excited to showcase our comprehensive portfolio of motion control solutions including new innovations that improve work-holding performance in manufacturing robotics."
During PACK EXPO, Compact Automation will showcase its motion control solutions with a new, unique work-holding products display where attendees can see a robotic display cycling through each of the following solutions:
Compact Automation Composite Cylinders: A new design innovation combines Compact Automations small cylinder size in a powerful, lightweight, corrosion-resistant material. The Composite Cylinder Series is a linear actuator with a durable hollow rod option enabling use in vacuum pick-up applications in end-of-arm tooling. Designed in an equivalent size to Compacts standard inch and metric series, the Composite Cylinders are 25-30% lighter than standard cylinders. This solution makes it possible for operators to either downsize a robotic application or simply handle heavier loads. The cylinders design also features a corrosion-resistant plastic, FDA-approved food-grade material ideal for challenging environments.
Inch Cylinders: Compact Automations cylinders are created with materials suitable for hazardous environments, allowing these products to comply with the requirements of most packaging applications.
Rotary Actuators: A unique design provides a lightweight and economical solution over traditional rack and pinion type assemblies. Turn-Act brand actuators from Compact Automation have one moving part, providing no backlash or loss of motion, precise repeatability and continuous full torque throughout rotation.
Slides: Compacts slides are designed to support their own load and are suitable for limited space applications.
Magnetic Grippers: Ideal for ferromagnetic materials such as steel mesh that has proven to be a challenge for clamping grippers. This new solution delivers a consistently rapid grip speed, whether picking up complex shapes, flat sheets or perforated sheets.
Angular Motion Grippers: Low cost, high performance. These grippers come in two and three-jaw designs for greater application flexibility.
Parallel Grippers: The redesigned Compact Parallel Motion Grippers can deliver more grip-force in smaller sizes. The highly flexible design features a pneumatic cylinder and jaws that slide along two guide rods providing rigid, robust, powerful and dependable parallel motion in a more compact size.
Compact Automation representatives will be available throughout PACK EXPO International at Booth N6333 in Chicagos McCormick Place. For more information regarding Compacts packaging industry solutions, please visit www.compactautomation.com/packaging.
About ITT
ITT is a diversified leading manufacturer of highly engineered critical components and customized technology solutions for the energy, transportation and industrial markets. Building on its heritage of innovation, ITT partners with its customers to deliver enduring solutions to the key industries that underpin our modern way of life. ITT is headquartered in White Plains, N.Y., with employees in more than 35 countries and sales in a total of approximately 125 countries. The company generated 2017 revenues of $2.6 billion. For more information, visit www.itt.com.
About ITTs Connect and Control Technologies Business
ITTs Connect and Control Technologies business designs and manufactures harsh-environment connectors and critical energy absorption, motion, flow and environmental control components. Through leading brands such as Aerospace Controls, BIW Connector Systems, Cannon, Compact, Enidine and Veam, the business serves customers in the aerospace, automation, defense, energy, industrial, infrastructure and transportation markets.
Featured Product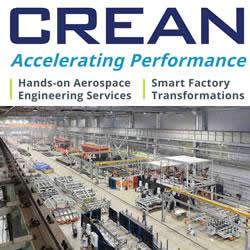 We model and analyze your current production operation by taking a System Wide approach. This will help you get to your true capacity and give you full Visibility, Insight and Control. Our program will be specially customized to your needs. We review your goals and critical drivers, look at your organization, identify your pain points and illuminate new financial opportunities. Our methodology has its roots in LEAN, Six Sigma, and Theory of Constraints but is augmented with internally developed methods specifically designed for High Mix production environments. We will optimize your resources to deliver maximum capacity. Our analysis will also take into account future growth planning.