Achievements & Challenges Discussed at Virtual Reality Press Conference
Prominent Taiwanese machine tool and accessory manufacturers provided their perspectives on the present state of smart manufacturing as well as the challenges faced in areas ranging from customer customization requirements to the lack of a universal machine control language and the impact of electric cars on the machine tool industry in a panel discussion at this week's 2018 IMTS in Chicago. The panel was part of "Taiwan: Make Tomorrow Come True," a press conference that also included a 360┬░ virtual reality tour of major Taiwanese advances in smart machinery and associated technologies.

Recent innovations included:
YCM's i-Direct IoT platform, helps reduce waste, defects and downtime by identifying production bottlenecks, monitoring machine parts, and enabling predictive management. The solution supports connectivity of disparate CNC controller and machine types, including manually operated equipment.
NexCOBOT's open and modular intelligent robot control and machine automation solutions, providing an open architecture that supports integration of third-party robotics and automation solutions via APIs. They developed an educational robot kit to train users in how industrial robots are built, operated and how to build robot applications.
FFG/Feeler's U-800 5-axis machining center for high-precision machining and fine finishes, targeting the aerospace, automotive, energy and precision molds industries. Winner of the 2018 Taiwan Excellence Gold Award, the U-800 features a gantry-type structure, a large machining space enabling easy loading and unloading of large workpieces, U-shaped structure that increases structural rigidity and accuracy.
Techman Robot's intelligent collaborative industrial robots, combining smart built-in vision with hand-guiding functions for automated visual pick and place. The company's new high-load robot TM12 Series for the semiconductor industry features load capacities higher than any other robot with the same arm length. Mobile models for the semiconductor and logistics industries can be used with mobile automated guided vehicles (AGVs).
Tongtai's TMS-2000ST multi-tasking turning center, equipped with turning, drilling, tapping and machining functions for multi-processing parts. They have also developed equipment for additive and hybrid additive-subtractive manufacturing, and the TIMS (Tongtai Intelligence Manufacturing System) and Tongtai Line Management solutions for operators to easily control production and improve efficiency.
Taiwan Takisawa's MX-800 machining center for automotive parts production, featuring spindles and turrets that operate independently to reduce turning time as well as gantry loading enabling high speed mass production with minimum manual intervention. Industry 4.0 solutions include the TiMES Smart Manufacturing Execution System designed to reduce costs, facilitate on-time delivery, and shorten development and testing times.
Taiwan's IMTS 2018 events were organized by the Bureau of Foreign Trade and implemented by the Taiwan External Trade Development Council.
Featured Product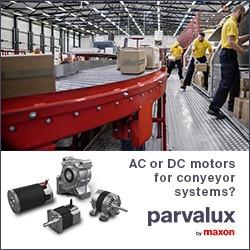 This GB56 right-angled, coupling driven gearbox from Parvalux packs a powerful punch in a small package. A width of 39mm and an output torque of 50 Nm in short-term operation. Ideal for applications where space is at a premium.