-Annual event for manufacturing decision makers and 3DEXPERIENCE platform users takes place during China International Industry Fair in Shanghai, Sept. 19-23 -Strategic production line workshops in partnership with McKinsey & Companys Digital Capability Center and Tsinghua University among agenda highlights -Dassault Systèmes booth at CIIF to show 3DEXPERIENCE platform as catalyst and enabler for change
Dassault Systèmes (Paris:DSY) (Euronext Paris: #13065, DSY.PA) will explore how turning supply chains into value networks enables industry to imagine and produce sustainable experiences, at Manufacturing in the Age of Experience, its annual event for industry decision makers, influencers and 3DEXPERIENCE platform users. The event will take place in Shanghai during the China International Industry Fair, September 19-23, 2018.

Demos, virtual experiences, panel discussions, customer testimonials and workshops will delve into strategies and tactics for changing the business of manufacturing in the context of todays global Industry Renaissance, where new categories of industrials are creating new categories of solutions for new categories of consumers.
"The Industry Renaissance extends beyond digitalizing manufacturing to combine virtual worlds with real operations. Its transformations are occurring so fast that companies must either embrace it today or disappear tomorrow," said Florence Verzelen, Executive Vice President, Industry Solutions, Field Marketing and Global Affairs, Dassault Systèmes. "Leaders are separated from everyone else by the speed at which they can develop insights from real-world big data and incorporate those insights into the knowledge and know-how they use to create and deliver experiences. Manufacturing in the Age of Experience is designed for manufacturers that are ready to rethink their production for 21st century sustainable innovation."
This years event features a two-day Executive Learning Expedition for decision makers. Among the highlights is "Manufacturing in Action," interactive technical and strategic workshops structured around a virtual and real production line in partnership with McKinsey & Companys Digital Capability Center and Tsinghua University. These workshops will address the use of the 3DEXPERIENCE platform for IoT and manufacturing analytics, supply chain optimization, manufacturing engineering, production execution, and lean management.
A plenary session will deliver industry insights on future manufacturing trends, achieving operational excellence, and embracing the manufacturing shift, from Dassault Systèmes, its partners, its customers, and industry thought leaders including:
Dr. Karel Eloot, Senior Partner, McKinsey & Company
Professor Li Zheng, Ph.D., Supervisor and Vice President, Tsinghua University
Dr. Michael Grieves, Executive Director, Center for Advanced Manufacturing and Innovative Design (CAMID), Florida Institute of Technology
Laurent Champaney, President, Ecole Nationale Supérieure dArts et Métiers
Christian Neckelmann Reventlow, Head of Vestas Manufacturing Systems, Vestas
Bruno Latchague, Senior Executive Vice President, Global Field Operations Americas, Global Brands, Indirect Channels, Dassault Systèmes
Florence Verzelen, Executive Vice President, Industry Solutions, Field Marketing and Global Affairs, Dassault Systèmes
Guillaume Vendroux, CEO, DELMIA, Dassault Systèmes
In parallel, Dassault Systèmes will exhibit at CIIF (China International Industry Fair), booth A131-Hall 7.2, where 3DEXPERIENCE platform users can participate in demonstrations and virtual reality experiences to discover how virtual worlds help them to reduce risk, improve and predict operational performance, remove barriers between potential business partners and enable new business models, and train tomorrows workforce.
Social media:
Share this on Twitter: Manufacturing in the Age of Experience returns to Shanghai Sept. 19-23 during #CIIF to explore value networks for sustainable innovation #3DEXPERIENCE
Connect with Dassault Systèmes on Twitter Facebook LinkedIn YouTube
For more information:
To register: https://events.3ds.com/manufacturing-age-of-experience
Manufacturing in the Age of Experience: https://ifwe.3ds.com/manufacturing/#strategy
The Industry Renaissance: https://ifwe.3ds.com/industry-renaissance
Dassault Systèmes 3DEXPERIENCE platform, 3D design software, 3D Digital Mock Up and Product Lifecycle Management (PLM) solutions: http://www.3ds.com
About Dassault Systèmes
Dassault Systèmes, the 3DEXPERIENCE Company, provides business and people with virtual universes to imagine sustainable innovations. Its world-leading solutions transform the way products are designed, produced, and supported. Dassault Systèmes collaborative solutions foster social innovation, expanding possibilities for the virtual world to improve the real world. The group brings value to over 220,000 customers of all sizes, in all industries, in more than 140 countries. For more information, visit www.3ds.com.
3DEXPERIENCE, the Compass logo and the 3DS logo, CATIA, SOLIDWORKS, ENOVIA, DELMIA, SIMULIA, GEOVIA, EXALEAD, 3D VIA, BIOVIA, NETVIBES and 3DEXCITE are registered trademarks of Dassault Systèmes or its subsidiaries in the US and/or other countries.
Featured Product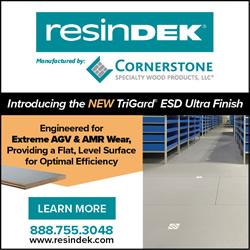 To maximize the productivity of an autonomous mobile robot (AMR) or automatic guided vehicle (AGV) deployment, it's critical to create the optimal environment that allows the vehicles to perform at their peak. For that reason, Cornerstone Specialty Wood Products, LLC® (www.resindek.com) created the TriGard® ESD Ultra finish for its ResinDek® engineered flooring panels. The TriGard ESD Ultra finish is ideal for high-traffic robotic applications characterized by highly repetitive movement patterns and defined travel paths.