KUKA will present innovative findings, as well as demonstrate robotic automation capabilities at the manufacturing technology trade show in Chicago
KUKA, a global supplier of intelligent automation solutions, will present on new IoT data analytics and additive manufacturing strategies and approaches, and demonstrate the capabilities of its automation solutions in booth #N-236200 at the International Manufacturing Technology Show (IMTS) at McCormick Place in Chicago from September 10-15.

Held every other year, IMTS is one of the largest and longest running manufacturing technology trade shows in the U.S. In keeping with the shows reputation for introducing manufacturing equipment and innovations, KUKA executives will reveal new techniques to address the growing need for IoT data analytics and additive manufacturing across industries.
"Utilizing IoT Analytics to Reduce Robot Downtime and Optimize Operations Efficiencies:" On September 11 at 1:15 p.m., KUKAs Vice President of Sales USA, Scott Flood, and Senior Product Manager, Christy Gentile, will discuss the benefits of adopting an incremental approach to implementing analytic solutions for proactive maintenance, introduce cloud integration strategies for overcoming siloed environments in manufacturing and more.
"The Next Step: Taking 3D Printing from Prototyping to the Production Floor:" On September 13 at 3:15 p.m., KUKAs Chief Regional Office of the Americas, Joe Gemma, and HPs Vice President & Global Head of Market Development, HP 3D Printing, Scott Schiller, will identify the key challenges to expanding 3D printings production capabilities, discuss the automation processes needed to support the transition from prototyping to the manufacturing of parts and more.
In addition to participating in speaking sessions, KUKA will showcase their industry leading robotic and automation solutions at booth #N-236200, as well as offer introductions of KUKA Connects new and improved user interface. KUKA Connect is a cloud-based analytics and intelligence software platform that converts robot data into actionable insights. The new interface offers improved functionality and features that make it easier to access the robot information you need. With Connect, you can know the state of your robot fleet at any time through clear and effective visual analysis.
Attendees can also visit the booth to view a series of demos in conjunction with KUKAs System Partners Visual Components, Sisu, RSTG, Midwest Engineered Systems Inc., and Dürr. There will also be a team of KUKAs application experts on hand to discuss which solutions can help attendees maximize production while lowering unscheduled downtime. The solutions on display include:
KMP 1500: This autonomously controlled omnidirectional mobile platform can independently transport products through all process steps while seamlessly integrating into the production environment.
KMR iiwa: This autonomous robot combines all the benefits of the lightweight, collaborative LBR iiwa robot with a flexible, mobile platform to meet all Industry 4.0 requirements and modern production challenges.
KUKA KORE: The KUKA Official Robot Education (KORE) program presents high schools, technical centers, community colleges, and universities the support and opportunity to incorporate certificate-based robot education on KUKA products.
For more information about IMTS and KUKAs speaking sessions at the show, visit: https://www.imts.com/
For more information about the solutions KUKA will display at booth #N-236200, visit: https://www.kukakore.com/media/news-events/imts-2018/
About KUKA
KUKA is a global automation corporation with sales of around 3.5 billion euro and around 14,200 employees. As leading global supplier of intelligent automation solutions, KUKA offers its customers in the automotive, electronics, consumer goods, metalworking, logistics/e-commerce, healthcare and service robotics industries everything they need from a single source: from components and cells to fully automated systems. The KUKA Group is headquartered in Augsburg.
Featured Product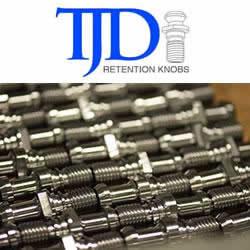 Our retention knobs are manufactured above international standards or to machine builder specifications. Retention knobs are manufactured utilizing AMS-6274/AISI-8620 alloy steel drawn in the United States. Threads are single-pointed on our lathes while manufacturing all other retention knob features to ensure high concentricity. Our process ensures that our threads are balanced (lead in/lead out at 180 degrees.) Each retention knob is carburized (hardened) to 58-62HRC, and case depth is .020-.030. Core hardness 40HRC. Each retention knob is coated utilizing a hot black oxide coating to military specifications. Our retention knobs are 100% covered in black oxide to prevent rust. All retention knob surfaces (not just mating surfaces) have a precision finish of 32 RMA micro or better: ISO grade 6N. Each retention knob is magnetic particle tested and tested at 2.5 times the pulling force of the drawbar. Certifications are maintained for each step in the manufacturing process for traceability.